On this page, you find the full wrestling profile of Savio Vega, with his Career History, real name, age, height and weight, the Promotions he worked for, all the Face/Heel turns, the Championship Titles he won, his Finishers, Theme Songs, Tag Teams and Stables, his appearance changes through the years, and more.
Juan Rivera was born in Vega Alta, Puerto Rico on August 10, 1964, and he is currently 59 years old.
He is currently a Wrestler, working for Independent promotions, under the ring name of Savio Vega.
Profile Info
Gender

Male

Real Name

Juan Rivera

Ring Names

Savio Vega

(

June 6, 2001

-

Present

)

Hombre Dinamita

(

May 18, 2000

-

June 16, 2001

)

TNT

(

May 7, 2000

-

May 17, 2000

)

Savio Vega

(

May 14, 1995

-

May 6, 2000

)

Kwang

(

January 11, 1994

-

May 28, 1995

)

TNT

(

May 2, 1987

-

January 10, 1994

)

Corsario I

(

August 3, 1986

-

May 1, 1987

)

El Corsario

(

August 14, 1985

-

August 2, 1986

)

Born

August 10, 1964 (age 59)

Nationality

Puerto Rico

Birth Place

Vega Alta, Puerto Rico

Billed From

Puerto Rico

(

August 14, 1985

-

Present

)

The South Bronx

(

May 16, 1995

-

August 10, 1998

)

The Orient

(

January 11, 1994

-

May 28, 1995

)

Height

5 ft 11 in (180 cm)

Weight

Nicknames

El Boricua Mayor; Gerente General; The Man They Call TNT; The Mighty
Career History
Roles

Wrestler

(

August 14, 1985

-

Present

)

Producer

(

July 1, 2008

-

July 31, 2009

)

Companies / Promotions

Promotion
from
to

Promotion

INDY

December 13, 2015

Present

Promotion

MLW

July 25, 2019

June 23, 2022

Promotion

WWC

January 6, 2013

September 20, 2014

Promotion

TNA

July 1, 2008

July 31, 2009

Promotion

WWC

November 18, 2005

February 18, 2006

Promotion

WWF

January 10, 1994

August 10, 1998

Promotion

NJPW

Brand

Heavyweight

September 30, 1990

July 23, 1993

Promotion

AJPW

November 21, 1987

January 29, 1988

Face / Heel Turns

| Alignment | from | to |
| --- | --- | --- |
| Face | August 11, 1998 | Present |
| Heel | January 25, 1997 | August 10, 1998 |
| Face | May 14, 1995 | Present |
| Heel | August 14, 1985 | May 13, 1995 |

Images

Sep 2020

Jun 1997

May 1995

Jan 1994

May 1987

Aug 1985
Finishers

Caribbean Kick

-

Spinning Heel Kick

(

August 14, 1985

-

Present

)

Painkiller

-

Superkick

(

August 14, 1985

-

Present

)

Theme Songs

Theme Song

"Los Boricuas" by Jim Johnston

-

Team

(

January 1, 1998

-

August 10, 1998

)

Theme Song

"40 y 45" by DJ Nelson

-

Team

(

June 30, 1997

-

December 31, 1997

)

Theme Song

"We Are the Nation" by Jim Johnston

-

Team

(

January 25, 1997

-

June 16, 1997

)

Theme Song

"Star of Vega" by Jim Johnston

-

Single

(

May 16, 1995

-

January 24, 1997

)

Theme Song

"Last Time in Paris" by Queensrÿche

-

Single

(

September 30, 1990

-

July 23, 1993

)
Titles & Accomplishments
Titles Won

Americas Wrestling Federation

3 AWF Americas Heavyweight Championship

Borinquen Sports Promotion

1 BSP World Heavyweight Championship

Champion Wrestling Association

1 CWA World Heavyweight Championship

Dominican Wrestling Entertainment

1 DWE World Tag Team Championship (with Miguel Pérez Jr.)

International Wrestling Association

3 IWA World Heavyweight Championship
1 IWA Hardcore Championship
2 IWA World Tag Team Championship (with Miguel Pérez Jr.)

Latin Wrestling Alliance

1 LWA World Heavyweight Championship

Major League Wrestling

1 IWA Caribbean Heavyweight Championship

New Revolution Wrestling

1 NRW Heavyweight Championship

Revolution X-Treme Wrestling

1 RXW World Heavyweight Championship

World Wrestling Association (Puerto Rico)

1 WWA World Heavyweight Championship
1 WWA Puerto Rico Championship

World Wrestling Council

3 WWC Universal Heavyweight Championship
3 WWC Caribbean Heavyweight Championship
1 WWC North American Heavyweight Championship
3 WWC Puerto Rico Heavyweight Championship
1 WWC World Tag Team Championship (with Mr. Pogo)
5 WWC Television Championship

Wrestling Alliance Revolution

1 WAR World Heavyweight Championship
1 WAR Tag Team Championship (with Condor Ortíz)

Other Accomplishments

49° in PWI 500 (1996)
321° in PWI Years Top 500 (2003)
IWA Bruiser Brody Hardcore Weekend Memorial Cup
WON Worst Feud of the Year Award (1997 vs. Disciples of Apocalypse)
Relations
Tag Teams & Stables

Los Inhumanos

-

Invader #1

(

June 18, 2022

-

August 6, 2022

)

Los Autenticos

-

Miguel Pérez

(

January 6, 2008

-

September 13, 2009

)

Savio Vega and Condor Ortiz

-

Condor Ortiz

(

March 24, 2007

-

January 27, 2008

)

The Inhumans

-

Invader #1

(

April 22, 2006

-

June 18, 2006

)

Los Boricuas

-

Huracan Castillo, Miguel Perez Jr.

(

January 30, 2000

-

March 3, 2000

)

Los Boricuas

-

Jesús Castillo, José Estrada Jr., Miguel Pérez

(

June 30, 1997

-

September 19, 1999

)

Nation of Domination

-

Crush / Brian Adams, D'Lo Brown, Ron Simmons / Faarooq,

Clarence Mason, JC Ice, Wolfie D

(

January 25, 1997

-

June 16, 1997

)

Mr. Pogo & TNT

-

Mr. Pogo

(

July 11, 1987

-

July 30, 1987

)

Los Corsarios

-

Corsario II

(

August 3, 1986

-

August 24, 1986

)
Savio Vega Game Appearances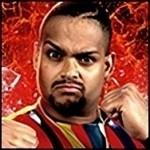 wwe2k16