On this page, you find the full wrestling profile of Crush / Brian Adams, with his Career History, real name, age, height and weight, the Promotions he worked for, all the Face/Heel turns, the Championship Titles he won, his Finishers, Theme Songs, Tag Teams and Stables, his appearance changes through the years, and more.
Brian Keith Adams was born in Kona, Hawaii on April 14, 1964.
He died on August 13, 2007 at the age of 43.
Profile Info
Gender

Male

Real Name

Brian Keith Adams

Ring Names

Brian Adams

(

August 31, 1999

-

January 19, 2003

)

The Demon

(

August 23, 1999

-

August 30, 1999

)

Brian Adams

(

February 16, 1998

-

August 22, 1999

)

Crush

(

October 18, 1993

-

February 15, 1998

)

Kona Crush

(

May 9, 1992

-

October 17, 1993

)

Demolition Crush

(

June 5, 1990

-

May 8, 1992

)

BA

(

June 1, 1990

-

June 4, 1990

)

The American Ninja

(

June 1, 1987

-

May 31, 1990

)

The Midnight Soldier

(

February 29, 1988

-

March 19, 1988

)

Brian Adams

(

October 1, 1986

-

May 31, 1987

)

Born

April 14, 1964

Died

August 13, 2007 (aged 43)

Nationality

United States

Birth Place

Kona, Hawaii

Billed From

Height

6 ft 6 in (198 cm)

Weight

Nicknames

The Original Hawaiian Punch
Career History
Roles

Wrestler

(

October 1, 1986

-

January 19, 2003

)

Companies / Promotions

Promotion
from
to

Promotion

AJPW

July 17, 2002

January 19, 2003

Promotion

WWF

September 6, 2001

September 30, 2001

Promotion

WCW

February 16, 1998

March 26, 2001

Promotion

NJPW

Brand

Heavyweight

July 6, 1998

October 30, 1998

Promotion

WWF

July 22, 1996

November 24, 1997

Promotion

WWF

May 9, 1992

March 25, 1995

Promotion

WWF

June 5, 1990

May 27, 1991

Promotion

AJPW

January 2, 1989

January 28, 1989

Promotion

NJPW

Brand

Heavyweight

September 17, 1987

March 19, 1988

Promotion

NJPW

Brand

Heavyweight

October 1, 1986

January 31, 1987

Face / Heel Turns

| Alignment | from | to |
| --- | --- | --- |
| Heel | September 4, 2001 | January 19, 2003 |
| Face | November 16, 2000 | September 3, 2001 |
| Heel | October 2, 2000 | November 15, 2000 |
| Face | May 15, 2000 | October 1, 2000 |
| Heel | February 16, 1998 | May 14, 2000 |
| Face | June 10, 1997 | February 15, 1998 |
| Heel | October 18, 1993 | June 9, 1997 |
| Face | July 20, 1991 | October 17, 1993 |
| Heel | September 1, 1989 | July 19, 1991 |
| Face | October 1, 1986 | August 31, 1989 |

Images

Jul 2002

Aug 1999

Aug 1999

Feb 1998

Jul 1996

Oct 1993

May 1992

Jun 1990

Oct 1986
Finishers

Chokeslam

(

February 16, 1998

-

January 19, 2003

)

Total Meltdown - with Bryan Clark

-

Powerbomb + Diving Clothesline combination

(

April 16, 2000

-

January 19, 2003

)

Heart Punch

(

October 18, 1993

-

November 24, 1997

)

Cranium Crunch / Kona Clutch

-

Two-handed Clawhold

(

February 28, 1992

-

October 17, 1993

)

Demolition Decapitation - with Ax or Smash

-

Backbreaker + Diving Elbow Drop combination

(

June 5, 1990

-

May 27, 1991

)

Theme Songs

Theme Song

"KroniK" by Jimmy Hart & Howard Helm - with Bryan Clark

-

Team

(

April 16, 2000

-

September 30, 2001

)

Theme Song

"God of Thunder" by KISS

-

Single

(

August 23, 1999

-

August 30, 1998

)

Theme Song

"Rockhouse" by J. Hart & Howard Helm - with nWo

-

Team

(

February 16, 1998

-

August 16, 1999

)

Theme Song

"8 Ball" by Jim Johnston - with Disciples of Apocalypse

-

Team

(

June 23, 1997

-

November 24, 1997

)

Theme Song

"Nation of Domination" by Jim Johnston - with Nation of Domination

-

Team

(

December 15, 1996

-

June 9, 1997

)

Theme Song

"Jailbird" by Jim Johnston

-

Single

(

August 12, 1996

-

December 30, 1996

)

Theme Song

"Crush (Rising Sun)" by Jim Johnston

-

Single

(

November 6, 1993

-

January 22, 1995

)

Theme Song

"Kona" by Jim Johnston

-

Single

(

May 9, 1992

-

July 12, 1993

)

Theme Song

"Demolition" by Jim Johnston - with Demolition

-

Team

(

July 28, 1990

-

May 27, 1991

)

Theme Song

"Demolition Daze" by Jimmy Hart, J.J.Maguire & Rick Derringer - with Demolition

-

Team

(

June 5, 1990

-

July 27, 1990

)

Theme Song

"In the World Beyond" by Loudness

-

Single

(

September 17, 1987

-

March 19, 1988

)
Titles & Accomplishments
Titles Won

World Wrestling Federation

1 WWF World Tag Team Championship (with Ax & Smash - Freebird rule)

World Championship Wrestling

2 WCW World Tag Team Championship (with Bryan Clark)

All Japan Pro Wrestling

1 World Tag Team Championship (with Bryan Clark)

Oregon Wrestling Federation

1 OWF Tag Team Championship (with Mike Miller)

Pacific Northwest Wrestling

2 NWA Pacific Northwest Heavyweight Championship
2 NWA Pacific Northwest Tag Team Championship (1 with The Grappler, 1 with Steve Doll)

Other Accomplishments

WCW SnowBrawl Battle Royal Winner (1999)
PNW Salem City Tournament Winner (1988)
Relations
Tag Teams & Stables

KroniK

-

Adam Bomb / Bryan Clark / Wrath (

April 16, 2000

-

January 19, 2003

)

The Alliance

-

Adam Bomb / Bryan Clark / Wrath, Bill DeMott, Billy Kidman, Booker T, Bubba Ray Dudley / Bully Ray, Chavo Guerrero, Chris Kanyon, Christian, Chuck Palumbo, D-Von Dudley, Debra, Diamond Dallas Page, Gregory Helms / The Hurricane, Ivory, Johnny Stamboli, Justin Credible, Lance Storm, Mark Jindrak / Marco Corleone, Mike Awesome, Molly Holly, Paul Heyman, Raven, Rhyno / Rhino, Rob Van Dam, Sean O'Haire, Shane McMahon, Shawn Stasiak, Stacy Keibler, Stephanie McMahon, Stevie Richards, Stone Cold Steve Austin, Tazz, Terri Runnels, Test, Tommy Dreamer, Torrie Wilson, William Regal,

Charles Robinson, Nick Patrick

(

September 6, 2001

-

September 30, 2001

)

nWo Black & White

-

Big Show, Mr. Perfect Curt Hennig, Scott Norton, Stevie Ray, Virgil / Vincent,

Horace Hogan

(

January 7, 1999

-

August 16, 1999

)

nWo Hollywood

-

Barry Windham, Big Show, Bret Hart, Brutus Beefcake, Buff Bagwell, Dusty Rhodes, Eric Bischoff, Hulk Hogan, Miss Elizabeth, Mr. Perfect Curt Hennig, Rick Rude, Scott Hall / Razor Ramon, Scott Norton, Scott Steiner, Stevie Ray, Virgil / Vincent,

nWo Sting, Horace Hogan, Mark Johnson

(

April 27, 1998

-

January 4, 1999

)

nWo

-

Big Boss Man, Brutus Beefcake, Dusty Rhodes, Eric Bischoff, Hulk Hogan, Irwin R. Schyster / Mike Rotunda, Kevin Nash / Diesel, Konnan, Million Dollar Man Ted DiBiase, Miss Elizabeth, Mr. Perfect Curt Hennig, Randy Savage, Rick Rude, Scott Hall / Razor Ramon, Scott Norton, Scott Steiner, Virgil / Vincent,

nWo Sting

(

February 16, 1998

-

April 27, 1998

)

Disciples of Apocalypse

-

Chainz, Skull, 8-Ball

(

June 23, 1997

-

November 24, 1997

)

Nation of Domination

-

D'Lo Brown, Ron Simmons / Faarooq, Savio Vega,

Wolfie D, Clarence Mason

(

December 15, 1996

-

June 9, 1997

)

Demolition

-

Demolition Ax, Demolition Smash (

June 5, 1990

-

May 27, 1991

)

Managers

Jim Cornette, Mr. Fuji, Stevie Richards
Crush / Brian Adams Game Appearances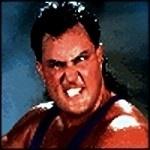 royal-rumble-1993