On this page, you find the full wrestling profile of Molly Holly, with her Career History, real name, age, height and weight, the Promotions she worked for, all the Face/Heel turns, the Championship Titles she won, her Finishers, Theme Songs, Tag Teams and Stables, her appearance changes through the years, and more.
Nora Kristina Benshoof (née Greenwald) was born in Forest Lake, Minnesota on September 7, 1977, and she is currently 46 years old.
She is currently a Producer, working for WWE.
Molly Holly was inducted in the WWE Hall of Fame in 2021.
Profile Info
Gender

Female

Real Name

Nora Kristina Benshoof (née Greenwald)

Ring Names

Molly Holly

(

April 2, 2002

-

Present

)

Mighty Molly

(

September 26, 2001

-

April 1, 2002

)

Molly Holly

(

November 6, 2000

-

September 25, 2001

)

Lady Ophelia

(

October 16, 2000

-

November 5, 2000

)

Mona

(

August 9, 1999

-

August 1, 2000

)

Miss Madness

(

July 2, 1999

-

August 8, 1999

)

Starla Saxton

(

August 2, 1997

-

July 1, 1999

)

Born

September 7, 1977 (age 46)

Nationality

United States

Birth Place

Forest Lake, Minnesota

Billed From

Height

5 ft 4 in (163 cm)

Weight
Career History
Roles

Producer

(

April 7, 2021

-

Present

)

Part Time Wrestler

(

January 28, 2018

-

October 28, 2018

)

Part Time Wrestler

(

February 2, 2008

-

April 5, 2009

)

Wrestler

(

August 2, 1997

-

April 11, 2005

)

Manager

(

July 2, 1999

-

November 5, 2000

)

Companies / Promotions

Promotion
from
to

Promotion

WWE

April 7, 2021

Present

Promotion

WWE

Brand

Raw

March 25, 2002

April 11, 2005

Promotion

WWF

November 6, 2000

March 24, 2002

Promotion

WCW

July 2, 1999

August 1, 2000

Face / Heel Turns

| Alignment | from | to |
| --- | --- | --- |
| Heel | April 2, 2002 | April 11, 2005 |
| Face | November 6, 2000 | April 1, 2002 |
| Heel | October 16, 2000 | November 5, 2000 |
| Face | August 9, 1999 | October 15, 2000 |
| Heel | July 2, 1999 | August 8, 1999 |

Images

Jun 2004

Mar 2004

Apr 2002

Sep 2001

Jul 1999
Finishers

Molly-Go-Round

-

Diving Flipping Seated Senton

(

November 6, 2000

-

April 11, 2005

)

Twin City Twister

-

Indian Deathlock Surfboard

(

November 6, 2000

-

April 11, 2005

)

Running Lariat

(

August 2, 1997

-

March 24, 2002

)

Theme Songs

Theme Song

"Molly Holly" by Jim Johnston

-

Single

(

July 28, 2003

-

April 11, 2005

)

Theme Song

"Rhesus Pieces" by Joseph Saba & Stewart Winter

-

Single

(

April 2, 2002

-

July 27, 2003

)

Theme Song

"Slow Death" by Zack Tempest - with The Holly Cousins

-

Team

(

November 6, 2000

-

May 28, 2001

)

Theme Song

"Mona" by Jimmy Hart & Howard Helm

-

Single

(

August 9, 1999

-

August 1, 2000

)
Titles & Accomplishments
Hall of Fame

WWE Hall of Fame

-

Year

2021

,

Individual

Titles Won

World Wrestling Federation/World Wrestling Entertainment

1 WWF Hardcore Championship
2 WWE Women's Championship

New Dimension Wrestling

1 NDW Women's Championship

World Professional Wrestling Federation

1 WPWF Women's Championship

Other Accomplishments

WSU Hall of Fame induction (class of 2010)
Cauliflower Alley Club's Women's Wrestling Award (2013)
15° in 50 Greatest WWE Female Superstars of all time (2021)
Relations
Molly Holly Game Appearances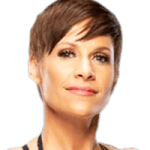 wwe2k23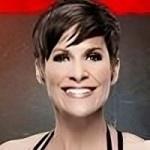 wwe2k20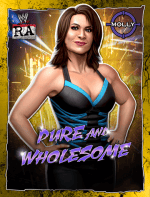 champions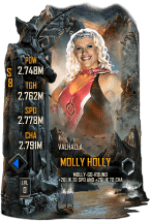 supercard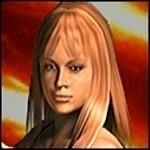 svr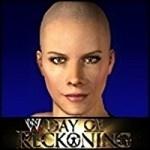 day-of-reckoning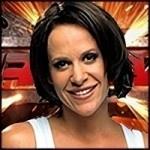 wwe-raw-2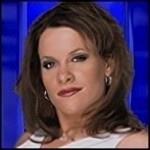 shut-your-mouth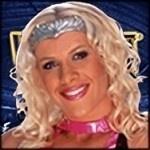 wrestlemania-x8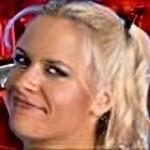 wwe-raw
just-bring-it