On this page, you find the full wrestling profile of Rhyno / Rhino, with his Career History, real name, age, height and weight, the Promotions he worked for, all the Face/Heel turns, the Championship Titles he won, his Finishers, Theme Songs, Tag Teams and Stables, his appearance changes through the years, and more.
Terrance Guido Gerin was born in Detroit, Michigan on October 7, 1975, and he is currently 47 years old.
He is currently a Wrestler and Producer, working for Impact Wrestling and Independent promotions, under the ring name of Rhino.
Profile Info
Gender

Male

Real Name

Terrance Guido Gerin

Ring Names

Rhino

(

July 18, 2019

-

Present

)

Rhyno

(

February 18, 2015

-

July 17, 2019

)

Rhino

(

July 17, 2005

-

September 16, 2016

)

Rhyno

(

March 19, 2001

-

July 16, 2005

)

Rhino

(

February 19, 1999

-

March 18, 2001

)

Rhino Richards

(

May 11, 1996

-

June 26, 1999

)

Terry Richards

(

March 10, 1995

-

June 23, 1997

)

The Avenger

(

March 11, 1995

-

December 9, 1995

)

Born

October 7, 1975 (age 47)

Nationality

United States

Birth Place

Detroit, Michigan

Billed From

Height

5 ft 10 in (178 cm)

Weight

Nicknames

The Man Beast; The War/Gore Machine
Career History
Roles

Wrestler

(

March 10, 1995

-

Present

)

Producer

(

September 7, 2023

-

Present

)

Companies / Promotions

Promotion
from
to

Promotion

IMPACT

July 26, 2019

Present

Promotion

INDY

July 21, 2019

Present

Promotion

GCW

September 1, 2021

January 14, 2022

Promotion

WWE

Brand

Raw

April 10, 2017

July 17, 2019

Promotion

WWE

Brand

SmackDown

July 26, 2016

April 9, 2017

Promotion

HOH

October 6, 2012

October 15, 2016

Promotion

INDY

July 10, 2005

August 27, 2016

Promotion

WWE

Brand

NXT

February 18, 2015

July 25, 2016

Promotion

ICW

July 25, 2015

November 15, 2015

Promotion

TNA

June 20, 2014

February 13, 2015

Promotion

ROH

June 13, 2011

July 13, 2013

Promotion

TNA

July 17, 2005

December 9, 2010

Promotion

NJPW

Brand

Heavyweight

November 11, 2007

March 23, 2008

Promotion

WWE

Brand

Raw

March 22, 2004

June 12, 2005

Promotion

WWE

Brand

SmackDown

February 27, 2003

March 21, 2004

Promotion

WWF

March 19, 2001

February 26, 2003

Promotion

ECW

February 19, 1999

January 13, 2001

Face / Heel Turns

| Alignment | from | to |
| --- | --- | --- |
| Face | October 23, 2021 | Present |
| Heel | March 13, 2021 | October 22, 2021 |
| Face | December 7, 2015 | March 12, 2021 |
| Heel | June 3, 2015 | December 6, 2015 |
| Face | August 20, 2014 | June 2, 2015 |
| Heel | November 7, 2010 | August 19, 2014 |
| Face | July 1, 2010 | November 6, 2010 |
| Heel | August 13, 2009 | June 30, 2010 |
| Face | December 2, 2007 | August 12, 2009 |
| Heel | December 1, 2006 | December 1, 2007 |
| Face | October 1, 2005 | November 30, 2006 |
| Heel | July 17, 2005 | September 30, 2005 |
| Face | June 19, 2004 | July 16, 2005 |
| Heel | July 27, 2003 | June 18, 2004 |
| Face | February 27, 2003 | July 26, 2003 |
| Heel | February 19, 1999 | February 26, 2003 |
| Face | March 10, 1995 | February 18, 1999 |

Images

Apr 2017

Feb 2015

Jun 2011

Feb 2006

Feb 1999

Mar 1995
Finishers

Gore

-

Striking Spear

(

February 19, 1999

-

Present

)

Rhyno Driver

-

Spike Piledriver

(

February 19, 1999

-

December 9, 2010

)

Theme Songs

Theme Song

"Stampede" by Dale Oliver

-

Single

(

July 26, 2019

-

Present

)

Theme Song

"Nine Lives" by Maurizio Capaldi, Poul Henrik Bjorling & Michele Brustia - with Violent by Design

-

Team

(

March 13, 2021

-

September 16, 2021

)

Theme Song

"Tusk" by Jim Johnston

-

Single

(

February 18, 2015

-

July 17, 2019

)

Theme Song

"Debonaire" by Dope

-

Single

(

June 13, 2011

-

October 15, 2016

)

Theme Song

"Stampede" by Dale Oliver

-

Single

(

June 20, 2014

-

February 13, 2015

)

Theme Song

"Konkussion" by Crushpile

-

Single

(

June 13, 2011

-

July 13, 2013

)

Theme Song

"Dirty Angel" by Voodoo Johnson - with S.C.U.M.

-

Single

(

December 16, 2012

-

June 23, 2013

)

Theme Song

"Stampede" by Dale Oliver

-

Single

(

July 17, 2005

-

October 2, 2010

)

Theme Song

"Tusk" by Jim Johnston

-

Single

(

March 19, 2001

-

June 12, 2005

)

Theme Song

"Debonaire" by Dope

-

Single

(

February 19, 1999

-

January 13, 2001

)

Theme Song

"For Whom the Bell Tolls" by Metallica

-

Single

(

June 28, 1997

-

December 19, 1998

)
Titles & Accomplishments
Titles Won

World Wrestling Federation

1 WWE SmackDown Tag Team Championship (with Heath Slater)
3 WWF Hardcore Championship
1 WCW United States Championship

Extreme Championship Wrestling

1 ECW World Heavyweight Championship
2 ECW World Television Championship

Impact Wrestling / Total Nonstop Action Wrestling

2 Impact World Tag Team Championship (1 with Eric Young, Joe Doering & Deaner - Freebird rule, 1 with Heath)
1 NWA World Heavyweight Championship

Border City Wrestling

1 BCW Can-Am Television Championship

Canadian Wrestling's Elite

1 CWE Tag Team Championship (with AJ Sanchez)

Catch Wrestling Association

2 CWA World Tag Team Championship (1 with Joe Legend, 1 with Jean-Pierre Lafitte)

DDT Pro-Wrestling

1 Ironman Heavymetalweight Championship

European Wrestling Promotion

1 EWP World Heavyweight Championship

Full Global Alliance Wrestling

1 FGA Heavyweight Championship

International Wrestling Cartel

1 IWC World Heavyweight Championship

Jersey All Pro Wrestling

1 JAPW Heavyweight Championship

Lancaster Championship Wrestling

1 LCW Heavyweight Championship

Metro Pro Wrestling

1 MPW Heavyweight Championship

NWA Mid-South

1 NWA Mid-South Unified Heavyweight Championship

Ohio Valley Wrestling

1 OVW Television Championship

Prime Time Wrestling

1 PTW Heavyweight Championship

Rockstar Pro

1 Rockstar Pro Championship

Universal Championship Wrestling

1 UCW Heavyweight Championshi

Universyl Wrestling Enterprises

1 UWE Heavyweight Championship

USA Xtreme Wrestling

1 UXW Heavyweight Championship

World Series Wrestling

1 WSW Heavyweight Championship

Xtreme Intense Championship Wrestling

3 XICW Midwest Heavyweight Championship
1 XICW Tag Team Championship (with Heath)

Xtreme Wrestling Alliance

1 XWA Heavyweight Championship

Other Accomplishments

WWE SmackDown Tag Team Championship Tournament Winner (2016 - with Heath Slater)
Impact Wrestling Call Your Shot Gauntlet Trophy Winner (2020)
TNA Gauntlet for the Gold – Heavyweight Winner (2005)
TNA Turkey Bowl Winner (2008)
PWA Carrot Cup Winner (2015 – with Tommy Dreamer)
10° in the PWI 500 (2001)
Relations
Rhyno / Rhino Game Appearances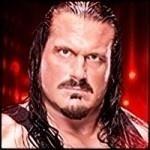 wwe2k19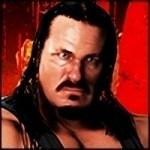 wwe2k18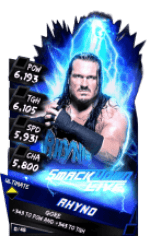 supercard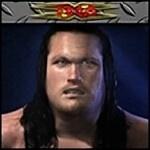 tna-impact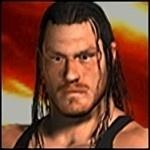 svr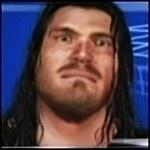 wrestlemania21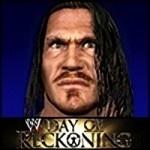 day-of-reckoning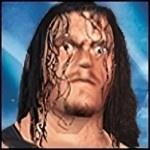 here-comes-the-pain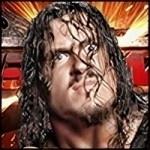 wwe-raw-2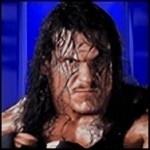 shut-your-mouth
wrestlemania-x8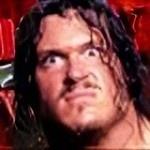 wwe-raw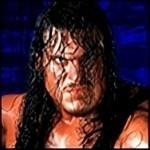 just-bring-it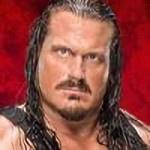 universe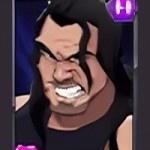 tapmania