On this page, you find the full wrestling profile of AJ Styles, with his Career History, real name, age, height and weight, the Promotions he worked for, all the Face/Heel turns, the Championship Titles he won, his Finishers, Theme Songs, Tag Teams and Stables, his appearance changes through the years, and more.
Allen Neal Jones was born in Jacksonville, North Carolina on June 2, 1977, and he is currently 46 years old.
He is currently a Wrestler, working for WWE on the SmackDown brand, under the ring name of AJ Styles.
Currently, he is is a member of the team of The O.C..
Profile Info
Gender

Male

Real Name

Allen Neal Jones

Ring Names

AJ Styles

(

March 20, 2001

-

Present

)

Air Styles

(

February 12, 2001

-

March 19, 2001

)

AJ Styles

(

December 1, 1999

-

February 11, 2001

)

Mr. Olympia

(

January 1, 1998

-

November 30, 1999

)

Born

June 2, 1977 (age 46)

Nationality

United States

Birth Place

Jacksonville, North Carolina

Billed From

Height

5 ft 11 in (180 cm)

Weight

Nicknames

The Phenomenal (One)
Career History
Roles

Wrestler

(

January 1, 1998

-

Present

)

Companies / Promotions

Promotion
from
to

Promotion

WWE

Brand

SmackDown

April 28, 2023

Present

Promotion

WWE

Brand

Raw

October 9, 2020

April 27, 2023

Promotion

WWE

Brand

NXT

December 21, 2021

January 11, 2022

Promotion

WWE

Brand

SmackDown

May 22, 2020

October 8, 2020

Promotion

WWE

Brand

Raw

April 15, 2019

May 21, 2020

Promotion

WWE

Brand

SmackDown

July 19, 2016

April 14, 2019

Promotion

WWE

January 24, 2016

July 18, 2016

Promotion

ROH

January 4, 2014

January 23, 2016

Promotion

REVPRO

February 15, 2015

January 16, 2016

Promotion

NJPW

Brand

Heavyweight

April 6, 2014

January 5, 2016

Promotion

TNA

June 19, 2002

December 17, 2014

Promotion

NWA

October 14, 2000

December 30, 2006

Promotion

PWG

July 26, 2003

November 18, 2006

Promotion

ROH

February 25, 2005

August 4, 2006

Promotion

ROH

April 27, 2002

March 13, 2004

Promotion

WCW

February 12, 2001

March 19, 2001

Face / Heel Turns

| Alignment | from | to |
| --- | --- | --- |
| Face | December 20, 2021 | Present |
| Heel | July 1, 2019 | December 19, 2021 |
| Face | April 4, 2017 | June 30, 2019 |
| Heel | May 30, 2016 | April 3, 2017 |
| Face | January 24, 2016 | May 29, 2016 |
| Heel | April 6, 2014 | January 23, 2016 |
| Face | August 22, 2013 | April 5, 2014 |
| Heel | February 1, 2013 | August 21, 2013 |
| Face | February 3, 2011 | January 31, 2013 |
| Heel | January 17, 2010 | February 2, 2011 |
| Face | October 22, 2003 | January 16, 2010 |
| Heel | June 11, 2003 | October 21, 2003 |
| Face | January 1, 1998 | June 10, 2003 |

Images

May 2023

Dec 2021

Jan 2018

Jan 2017

Jan 2016

Jan 2014

Feb 2013

Jan 1998
Finishers

Styles Clash

-

Belly-to-back Inverted Mat Slam

(

January 1, 1998

-

Present

)

Calf Crusher / Calf Killer

-

Calf Slicer

(

February 1, 2013

-

Present

)

Phenomenal Forearm

-

Springboard Forearm Smash

(

January 24, 2016

-

Present

)

Spiral Tap

-

Corkscrew Senton Bomb

(

June 19, 2002

-

January 31, 2013

)

Theme Songs

Theme Song

"Phenomenal" by CFO$

-

Single

(

January 24, 2016

-

Present

)

Theme Song

"Emergence" by def rebel - with The O.C.

-

Team

(

October 10, 2022

-

Present

)

Theme Song

"DemiGods (Edit)" by LabRats feat. Slim J

-

Single

(

January 4, 2014

-

January 23, 2016

)

Theme Song

"Styles Clash" by Yonosuke Kitamura

-

Single

(

April 6, 2014

-

January 5, 2016

)

Theme Song

Shot'Em" by [Q]Brick - with Bullet Club

-

Team

(

April 6, 2014

-

January 5, 2016

)

Theme Song

"Get Ready to Fly" by GRITS

-

Single

(

August 23, 2013

-

December 17, 2014

)

Theme Song

"Evil Ways" (Justice Mix) by Blues Saraceno

-

Single

(

June 2, 2013

-

August 22, 2013

)

Theme Song

"Fortune 4" by Dale Oliver - with Fortune

-

Team

(

June 17, 2010

-

January 5, 2012

)

Theme Song

"Get Ready to Fly" by GRITS

-

Single

(

January 1, 2007

-

June 2, 2013

)

Theme Song

"I Am" by Dale Oliver

-

Single

(

June 19, 2002

-

December 31, 2006

)

Theme Song

"Loose" by Primer 55

-

Single

(

February 12, 2001

-

March 19, 2001

)
Titles & Accomplishments
Titles Won

World Wrestling Entertainment

2 WWE Championship
3 WWE United States Championship
1 WWE Intercontinental Championship
1 WWE Raw Tag Team Championship (with Omos)

Total Nonstop Action Wrestling

2 TNA World Heavyweight Championship
3 NWA World Heavyweight Championship
6 TNA X Division Championship
2 TNA Legends/Global/Television Championship
2 TNA World Tag Team Championship (1 with Tomko, 1 with Kurt Angle)
4 NWA World Tag Team Championship (1 with Jerry Lynn, 1 with Abyss, 2 with Christopher Daniels)

New Japan Pro Wrestling

2 IWGP Heavyweight Championship

Ring of Honor

1 ROH Pure Wrestling Championship
1 ROH Tag Team Championship (with Amazing Red)

Pro Wrestling Guerrilla

Revolution Pro Wrestling

1 RPW British Heavyweight Championship

All Access Wrestling

1 AAW Heavyweight Championship

Ballpark Brawl

1 Natural Heavyweight Championship

Christian Wrestling Federation/Entertainment

1 CWF/CWE Heavyweight Championship

Family Wrestling Entertainment

1 FWE Heavyweight Championship

Independent Professional Wrestling (Florida)

1 IPW Heavyweight Championship

Independent Wrestling Association Mid-South

1 IWA Mid-South Heavyweight Championship

Independent Wrestling Revolution

1 IWR King Of The Indies Championship

International Wrestling Cartel

2 IWC Super Indies Championship

Maximum Pro Wrestling

1 Max-Pro Cruiserweight Championship

Midwest Pro Wrestling

1 MPW Universal Heavyweight Championship

New Korea Pro Wrestling Association

1 NKPWA Junior Heavyweight Championship

NWA Wildside

1 NWA Wildside Heavyweight Championship
3 NWA Wildside Television Championship

Pennsylvania Premiere Wrestling

1 PPW Tag Team Championship (with Tommy Suede)

World Wrestling All-Stars

1 WWA International Cruiserweight Championship

Other Accomplishments

WWE Intercontinental Championship Tournament Winner (2020)
WWE Grand Slam Champion
WWE Triple Crown Champion
WWE Slammy Award - Match of the Year (2020 - vs. The Undertaker, Boneyard Match at WrestleMania 36)
TNA Bound For Glory Series Winner (2013)
TNA Gauntlet for the Gold Winner (2007 - with Tomko)
Mr. TNA (2003-2005)
TNA Feud of the Year (2005 - vs. Christopher Daniels)
TNA Finisher of the Year (2003 - Styles Clash)
TNA Match of the Year (2006 - with Christopher Daniels vs. Homicide & Hernandez at No Surrender; 2009) vs. Sting at Bound for Glory)
TNA Tag Team of the Year (2006 - with Christopher Daniels)
TNA X Division Star of the Year (2004, 2005)[
ROH Pure Wrestling Championship Tournament Winner (2004)
IWA Mid-South's Ted Petty Invitational Winner (2004)
PWI Wrestler of the Decade (2010's)
1° in the PWI 500 (2010)
PWI Wrestler of the Decade (2010s)
PWI Wrestler of the Year (2016, 2017, 2018)
PWI Tag Team of the Year (2006 - with Christopher Daniels)
PWI Match of the Year (2016 - vs. John Cena at SummerSlam)
PWI Most Popular Wrestler of the Year (2017, 2018)
Wrestling Observer Newsletter Hall of Fame induction (class of 2017)
WON Wrestler of the Year (2015, 2016)
WON Best Flying Wrestler (2005)
WON Most Outstanding Wrestler (2014–2016)
WON Pro Wrestling Match of the Year (2014 vs. Minoru Suzuki on 08/01)
WON Best Wrestling Maneuver (2003, 2015 - Styles Clash)
WON United States/Canada MVP (2018)
Relations
Tag Teams & Stables

The O.C.

-

Karl Anderson, Luke / Doc Gallows, Mia Yim (

October 10, 2022

-

Present

)

AJ Styles & Finn Bálor

-

Finn Bálor / Prince Devitt (

May 2, 2022

-

June 5, 2022

)

AJ Styles & Omos

-

Omos / Jordan Omogbehin (

October 19, 2020

-

December 20, 2021

)

The O.C.

-

Karl Anderson, Luke / Doc Gallows (

July 1, 2019

-

April 15, 2020

)

Y2AJ

-

Chris Jericho (

February 22, 2016

-

March 7, 2016

)

The Club

-

Karl Anderson, Luke / Doc Gallows (

May 30, 2016

-

July 19, 2016

)

Bullet Club

-

Bad Luck Fale, Chase Owens, Karl Anderson, Kenny Omega, Luke / Doc Gallows, Matt Jackson, Nick Jackson, Tama Tonga,

Yujiro Takahashi, Cody Hall

(

April 6, 2014

-

January 5, 2016

)

Kurt Angle & AJ Styles

-

Kurt Angle (

June 12, 2012

-

October 14, 2012

)

Fortune

-

Christopher Daniels, Doug Williams, Frankie Kazarian, James Storm, Matt Morgan, Ric Flair, Rob Terry, Robert Roode (

June 17, 2010

-

January 5, 2012

)

The Front Line

-

Alex Shelley, Bubba Ray Dudley / Bully Ray, Chris Sabin, Christopher Daniels, D-Von Dudley, Eric Young, Jay Lethal, ODB, Petey Williams, Rhyno / Rhino, Samoa Joe, Xavier Woods (

October 30, 2008

-

July 23, 2009

)

AJ Styles & Tomko

-

Tyson Tomko (

March 29, 2007

-

May 22, 2008

)

The Angle Alliance

-

Kurt Angle, Tyson Tomko (

November 11, 2007

-

April 13, 2008

)

Christian's Coalition / Team Cage

-

Christian, Tyson Tomko (

April 15, 2007

-

November 11, 2007

)

AJ Styles & Christopher Daniels

-

Christopher Daniels (

December 13, 2005

-

July 2, 2007

)

Amazing Phenomenon

-

Amazing Red (

March 15, 2003

-

September 6, 2003

)

AJ Styles & D'Lo Brown

-

D'Lo Brown (

May 7, 2003

-

June 4, 2003

)

Air Raid

-

Air Paris

(

February 12, 2001

-

July 7, 2001

)

Managers

Abyss / Chris Parks, Omos / Jordan Omogbehin, Ric Flair
AJ Styles Game Appearances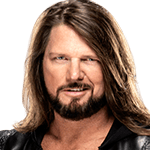 wwe2k23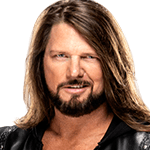 wwe2k22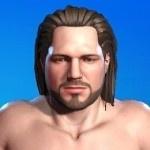 battlegrounds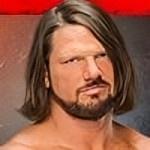 wwe2k20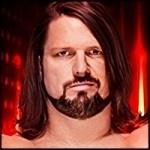 wwe2k19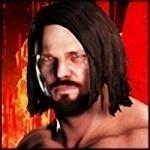 wwe2k18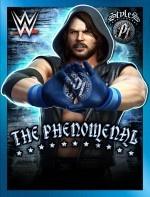 champions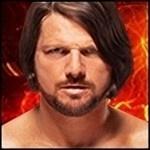 wwe2k17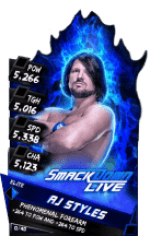 supercard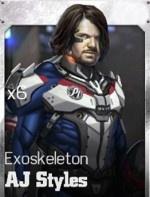 immortals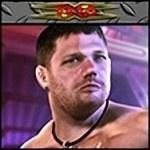 tna-impact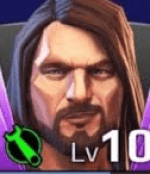 undefeated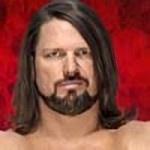 universe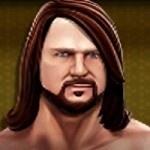 mayhem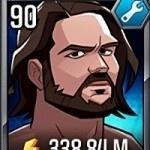 tapmania