On this page, you find the full wrestling profile of Jay Lethal, with his Career History, real name, age, height and weight, the Promotions he worked for, all the Face/Heel turns, the Championship Titles he won, his Finishers, Theme Songs, Tag Teams and Stables, his appearance changes through the years, and more.
Jamar Shipman was born in Elizabeth, New Jersey on April 21, 1985, and he is currently 38 years old.
He is currently a Wrestler, working for AEW and ROH, under the ring name of Jay Lethal.
Currently, he is is a member of the team of The Lethal Connection.
Profile Info
Gender

Male

Real Name

Jamar Shipman

Ring Names

Jay Lethal

(

December 7, 2001

-

Present

)

Hydro

(

January 11, 2003

-

June 24, 2004

)

Born

April 21, 1985 (age 38)

Nationality

United States

Birth Place

Elizabeth, New Jersey

Billed From

Height

5 ft 10 in (178 cm)

Weight

Nicknames

The Franchise (of ROH); The Greatest First Generation Wrestler; Black Machismo
Career History
Roles

Wrestler

(

December 7, 2001

-

Present

)

Companies / Promotions

Promotion
from
to

Promotion

AEW

November 13, 2021

Present

Promotion

ROH

April 1, 2022

Present

Promotion

NJPW

Brand

STRONG

January 15, 2022

March 20, 2022

Promotion

ROH

June 26, 2011

November 27, 2021

Promotion

NJPW

Brand

Heavyweight

January 4, 2016

May 12, 2019

Promotion

5 STAR

January 13, 2016

January 28, 2017

Promotion

TNA

December 7, 2005

April 21, 2011

Promotion

ROH

January 11, 2003

August 5, 2006

Face / Heel Turns

| Alignment | from | to |
| --- | --- | --- |
| Heel | April 1, 2022 | Present |
| Face | March 26, 2016 | March 31, 2022 |
| Heel | April 4, 2014 | March 25, 2016 |
| Face | May 13, 2006 | April 3, 2014 |
| Heel | December 13, 2005 | May 12, 2006 |
| Face | January 11, 2003 | December 12, 2005 |

Images

Nov 2021

Aug 2016

Jan 2009

Apr 2007

Jan 2003
Finishers

Lethal Injection

-

Handspring Cutter

(

June 26, 2011

-

Present

)

Lethal Combination

-

STO Backbreaker followed by a Reverse STO

(

April 5, 2007

-

Present

)

Figure-four Leglock

(

May 3, 2010

-

Present

)

Lethal Injection

-

Belly-to-back Suplex Neckbreaker

(

March 29, 2010

-

April 21, 2011

)

Hail to the King

-

Diving Elbow Drop

(

April 5, 2007

-

January 7, 2009

)

Hydroplane / Lethal Injection II

-

Springboard DDT

(

January 11, 2003

-

July 17, 2004

)

That's All She Wrote

-

Inverted Over the shoulder Back-to-belly Piledriver

(

January 11, 2003

-

July 17, 2004

)

Lethal Injection

-

Pumphandle Sitout Powerbomb

(

December 7, 2001

-

January 10, 2003

)

Theme Songs

Theme Song

"Lethal Injection" by Mikey Rukus

-

Single

(

November 17, 2021

-

Present

)

Theme Song

"My World & Circumstance" - with Jeff Jarrett

-

Team

(

January 4, 2023

-

Present

)

Theme Song

"Stomp & Circumstance" by Mikey Rukus

-

Single

(

November 13, 2021

-

November 16, 2021

)

Theme Song

"Scorched Ops (Edit)" by Scott Reinward

-

Single

(

April 4, 2014

-

November 13, 2021

)

Theme Song

"The Franchise" by Indianhead - with Jonathan Gresham

-

Team

(

December 13, 2019

-

November 12, 2021

)

Theme Song

"Pomp & Circumstances V2" by Leonard Bernstein

-

Single

(

July 11, 2013

-

April 3, 2014

)

Theme Song

"A Lethal Dose" by Blue Smock Nancy

-

Single

(

June 26, 2011

-

July 10, 2013

)

Theme Song

"LethalX" by Dale Oliver

-

Single

(

January 8, 2009

-

April 21, 2011

)

Theme Song

"Pomp and Circumstance (Black Machismo Remix)" by Dale Oliver

-

Single

(

April 5, 2007

-

January 7, 2009

)

Theme Song

"Static" by Dale Oliver

-

Single

(

February 18, 2006

-

April 4, 2007

)

Theme Song

"Pussy Liquor" by Rob Zombie

-

Single

(

December 17, 2005

-

August 5, 2006

)

Theme Song

"Push it" by Static-X

-

Single

(

July 17, 2004

-

December 16, 2005

)

Theme Song

"Victims of Hardstyle" by Zenith & Dana

-

Single

(

June 12, 2004

-

July 16, 2004

)

Theme Song

"Attenzione (Jens O. Remix)" by DJ Flashrider

-

Single

(

August 16, 2003

-

July 17, 2004

)

Theme Song

"Between Angels and Insects" by Papa Roach

-

Single

(

December 28, 2002

-

August 15, 2003

)
Titles & Accomplishments
Titles Won

Ring of Honor

2 ROH World Championship
2 ROH World Television Championship
1 ROH World Tag Team Championship (with Jonathan Gresham)
1 ROH Pure Championship

Total Nonstop Action Wrestling

6 TNA X Division Championship
1 TNA World Tag Team Championship (with Consequences Creed)

American Championship Entertainment

1 ACE Tag Team Championship (with Mo Sexton)

Big Time Wrestling

1 BTW Heavyweight Championship

Champion Wrestling Association (Puerto Rico)

Family Wrestling Entertainment

1 FWE Heavyweight Championship
1 FWE Tri-Borough Championship

International High Powered Wrestling

1 IHPW Diamond Division Championship
1 IHPW United States Heavyweight Championship

Jersey All Pro Wrestling

2 JAPW Heavyweight Championship
1 JAPW Light Heavyweight Championship
1 JAPW Television Championship
1 JAPW Tag Team Championship (with Azrieal)

Jersey Championship Wrestling

1 JCW Light Heavyweight Championship
1 JCW Television Championship

Millennium Wrestling Federation

1 MWF Television Championship

Politically Incorrect Wrestling

Pro-Wrestling ELITE

1 PWE Interstate Championship

Southside Wrestling Entertainment

1 SWE Speed King Championship

United Wrestling Coalition

1 UWC United States Championship

Unreal Championship Wrestling

1 UCW United States Heavyweight Championship
1 UCW World Heavyweight Championship

Wrestlezone Scotland

1 Wrestlezone Tag Team Championship (with Scotty Swift)

Other Accomplishments

ROH Honor Rumble Winner (2011)
ROH Survival of the Fittest Winner (2012)
ROH Wrestler of the Decade (2010s)
ROH Year-End Award - Wrestler of the Year (2018)
ROH Year-End Award - Feud of the Year (2017 - vs. Silas Young)
ROH Year-End Award - Tag Team of the Year (2020 - with Jonathan Gresham)
ROH Year-End Award - Match of the Year (2019 - vs. Marty Scurll and Matt Taven at G1 Supercard)
ROH Year-End Award - Faction of the Year (2020 - with Jonathan Gresham, Rhett Titus & Tracy Williams)
ROH Grand Slam Champion
ROH Triple Crown Champion
TNA World X Cup Winner (2006 - with Chris Sabin, Sonjay Dutt & Alex Shelley)
FWE Rumble Winner (2012)
JAPW Jersey City Rumble Winner (2009)
JCW Jersey J-Cup Winner (2003)
SWE Speed King Winner (2013)
WSU/NWS King and Queen of the Ring Winner (2009 - with Miss April)
ROH Feud of the Year (2017 - vs. Silas Young)
TNA X Division Wrestler of the Year (2007)
5° in the PWI 500 (2016)
Relations
Tag Teams & Stables

The Lethal Connection

-

Jeff Jarrett, Satnam Singh, Sonjay Dutt (

April 13, 2022

-

Present

)

Jay Lethal & Jonathan Gresham

-

Jonathan Gresham (

August 18, 2018

-

November 27, 2021

)

The Foundation

-

Jonathan Gresham, Rhett Titus, Tracy Williams (

November 28, 2020

-

November 27, 2021

)

The House of Truth

-

Dominik Dijakovic, Joey Daddiego, Taeler Hendrix, Truth Martini (

April 4, 2014

-

September 17, 2016

)

Lethal Consequences

-

Xavier Woods (

August 7, 2008

-

March 29, 2010

)

The Front Line

-

AJ Styles, Alex Shelley, Bubba Ray Dudley / Bully Ray, Chris Sabin, Christopher Daniels, D-Von Dudley, Eric Young, James Storm, ODB, Petey Williams, Rhyno / Rhino, Robert Roode, Samoa Joe, Xavier Woods (

October 30, 2008

-

July 23, 2009

)

Samoa Joe & Jay Lethal

-

Samoa Joe (

November 5, 2004

-

December 3, 2005

)

Special K

-

Joey Mercury, Mikey Whipwreck,

Dixie, Izzy, Angel Dust, Deranged, Brian XL, Jody Fleisch, Slugger, Yeyo, Slim J, Lit

(

January 11, 2003

-

July 17, 2004

)

Managers

SoCal Val, Sonjay Dutt, Truth Martini
Jay Lethal Game Appearances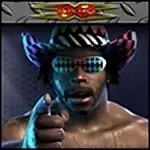 tna-impact