On this page, you find the full wrestling profile of Christopher Daniels, with his Career History, real name, age, height and weight, the Promotions he worked for, all the Face/Heel turns, the Championship Titles he won, his Finishers, Theme Songs, Tag Teams and Stables, his appearance changes through the years, and more.
Daniel Christopher Covell was born in Kalamazoo, Michigan on March 24, 1971, and he is currently 52 years old.
He is currently a Wrestler, Producer and Coach, working for AEW, ROH and NJPW on the STRONG division, under the ring name of Christopher Daniels.
Currently, he is is a member of the team of Christopher Daniels & Matt Sydal.
Christopher Daniels was inducted in the Indie Hall of Fame in 2023.
Profile Info
Gender

Male

Real Name

Daniel Christopher Covell

Ring Names

Christopher Daniels

(

June 29, 2011

-

Present

)

Daniels

(

April 16, 2009

-

June 28, 2011

)

Suicide

(

March 15, 2009

-

April 15, 2009

)

Curry Man

(

January 21, 2008

-

March 14, 2009

)

Christopher Daniels

(

April 3, 1993

-

January 20, 2008

)

Curry Man

(

July 17, 1999

-

June 5, 2004

)

Born

March 24, 1971 (age 52)

Nationality

United States

Birth Place

Kalamazoo, Michigan

Billed From

Height

6 ft 0 in (183 cm)

Weight

Nicknames

The Fallen Angel; Almighty; The Ring General; The King of Indies
Career History
Roles

Wrestler

(

April 3, 1993

-

Present

)

Producer

(

January 1, 2019

-

Present

)

Coach

(

January 1, 2020

-

Present

)

Companies / Promotions

Promotion
from
to

Promotion

AEW

January 1, 2019

Present

Promotion

ROH

March 2, 2023

Present

Promotion

NJPW

Brand

STRONG

December 9, 2021

Present

Promotion

IMPACT

September 23, 2021

September 30, 2021

Promotion

ROH

May 17, 2014

January 4, 2019

Promotion

NJPW

Brand

Heavyweight

May 12, 2015

December 9, 2015

Promotion

EPW

October 17, 2015

October 17, 2015

Promotion

HOH

June 6, 2014

July 18, 2015

Promotion

TNA

January 31, 2011

April 23, 2014

Promotion

ROH

April 3, 2010

June 26, 2011

Promotion

TNA

July 10, 2002

March 31, 2010

Promotion

NJPW

Brand

Junior Heavyweight

November 11, 2007

April 27, 2008

Promotion

ROH

June 18, 2005

April 28, 2007

Promotion

PWG

August 29, 2003

March 24, 2007

Promotion

NJPW

Brand

Junior Heavyweight

May 18, 2002

June 5, 2004

Promotion

ROH

February 23, 2002

January 10, 2004

Promotion

MICHINOKU

July 17, 1999

November 8, 2002

Promotion

NWA

January 25, 2001

January 26, 2002

Promotion

WWF

January 19, 1998

July 23, 2001

Promotion

WCW

January 24, 2000

January 22, 2001

Promotion

ECW

June 17, 1999

July 1, 1999

Face / Heel Turns

| Alignment | from | to |
| --- | --- | --- |
| Face | February 15, 2023 | Present |
| Heel | September 24, 2022 | February 14, 2023 |
| Face | January 14, 2017 | September 23, 2022 |
| Heel | September 22, 2011 | January 13, 2017 |
| Face | April 3, 2010 | September 21, 2011 |
| Heel | November 19, 2009 | April 2, 2010 |
| Face | January 21, 2008 | November 18, 2009 |
| Heel | March 11, 2007 | January 20, 2008 |
| Face | December 13, 2005 | March 10, 2007 |
| Heel | April 3, 1993 | December 12, 2005 |

Images

Sep 2021

May 2019

Jan 2018

May 2014

Jan 2010

Apr 2009

Mar 2009

Jan 2008

Mar 2007

Feb 2002

Apr 1993
Finishers

Angel's Wings

-

Spinning Sitout Lifting Double Underhook Facebuster

(

February 23, 2002

-

Present

)

BME - Best Moonsault Ever

-

Double Jump Moonsault

(

February 23, 2002

-

Present

)

Last Rites

-

Rolling Cutter

(

February 23, 2002

-

Present

)

Spice Drop

-

Argentine Facebuster

(

January 21, 2008

-

December 7, 2008

)

Theme Songs

Theme Song

"Fallen Angel" by VexTëmper

-

Single

(

May 25, 2019

-

Present

)

Theme Song

"SCU" by VexTëmper feat. Christopher Daniels & Scorpio Sky - with S.C.U.

-

Team

(

May 25, 2019

-

May 12, 2021

)

Theme Song

"Uncensored" - with SoCal Uncensored

-

Team

(

December 16, 2017

-

May 25, 2019

)

Theme Song

"Your Sexy Beast" by Kushinator - with Frankie Kazarian

-

Team

(

April 2, 2016

-

January 4, 2019

)

Theme Song

"Get Addicted" by VexTëmper - with Frankie Kazarian

-

Team

(

May 17, 2014

-

April 1, 2016

)

Theme Song

"Bad Influence" by Dale Oliver - with Frankie Kazarian

-

Team

(

December 9, 2012

-

April 23, 2014

)

Theme Song

"Devious" by Dale Oliver - with Frankie Kazarian

-

Team

(

January 5, 2012

-

December 8, 2012

)

Theme Song

"Wings of a Fallen Angel (Christopher Daniels '11 Remix)" by Dale Oliver

-

Single

(

January 31, 2011

-

January 4, 2012

)

Theme Song

"Wings of a Fallen Angel" by Dale Oliver

-

Single

(

July 10, 2002

-

March 31, 2010

)

Theme Song

"Spicy Hot" by Dale Oliver

-

Single

(

January 21, 2008

-

December 7, 2008

)

Theme Song

"S.E.X. Sells" by Dale Oliver - with S.E.X.

-

Team

(

December 4, 2002

-

June 18, 2003

)
Titles & Accomplishments
Halls of Fame

Indie Hall of Fame

-

Year

2023

,

Individual

Titles Won

Total Nonstop Action Wrestling

4 TNA X Division Championship (1 as Suicide)
2 TNA World Tag Team Championship (with Kazarian)
6 NWA World Tag Team Championship (3 with Low Ki & Elix Skipper - Freebird rule, 1 with James Storm , 2 with AJ Styles)

Ring of Honor

1 ROH World Championship
1 ROH World Television Championship
4 ROH World Tag Team Championship (1 with Donovan Morgan, 1 with Matt Sydal, 2 with Frankie Kazarian)
1 ROH World Six-Man Tag Team Championship (with Frankie Kazarian & Scorpio Sky)

New Japan Pro Wrestling

1 IWGP Junior Heavyweight Tag Team Championship (with American Dragon)

All Action Wrestling Australia

1 AAW World Heavyweight Championship

All Pro Wrestling

1 APW Worldwide Internet Championship

Ballpark Brawl

1 Natural Heavyweight Championship

DDT Pro-Wrestling

1 Ironman Heavymetalweight Championship (with Frankie Kazarian)

DEFY Wrestling

1 Interim DEFY World Championship
1 Defy Tag Team Championship (with Swerve Strickland)

East Coast Wrestling Association

2 ECWA Heavyweight Championship

Empire Wrestling Federation

1 EWF Heavyweight Championship

Frontier Wrestling Alliance

1 FWA British Heavyweight Championship

Impact Championship Wrestling

1 ICW Tag Team Championship (with Xavier)

Michinoku Pro Wrestling

1 British Commonwealth Junior Heavyweight Championship

Midwest Championship Wrestling

1 MCW Tag Team Championship (with Reign)

NWA Florida

1 NWA Florida Heavyweight Championship

NWA Midwest

1 NWA Midwest Tag Team Championship (with Kevin Quinn)

Premier Wrestling Federation

1 PWF United States Championship

Pro-Pain Pro Wrestling

1 3PW Heavyweight Championship

Pro Wrestling Zero1-Max

1 Zero1-Max United States Openweight Championship

Ultimate Pro Wrestling

2 UPW Heavyweight Championship

Windy City Pro Wrestling

1 WCPW League Championship
1 WCPW Lightweight Championship
1 WCPW Middleweight Championship
2 WCPW Tag Team Championship (1 with Kevin Quinn, 1 with Mike Anthony)

World Power Wrestling

1 WPW Heavyweight Championship

World Wrestling Council

1 WWC World Tag Team Championship (with Kevin Quinn)

WrestleCentre

1 IFWA Heavyweight Championship

Other Accomplishments

ECWA Hall of Fame Induction (class of 2001)
TNA World X Cup Winner (2004 - with Jerry Lynn, Chris Sabin & Elix Skipper)
TNA Feud of the Year (2005 - vs. AJ Styles)
TNA Match of the Year (2004 - with Elix Skipper vs. Chris Harris & James Storm at Turning Point; 2006 - with AJ Styles vs. Homicide & Hernandez at No Surrender
TNA Tag Team of the Year (2006 - with AJ Styles)
ROH Tag Team Championship Tournament Winner (2002 - with Donovan Morgan)
ROH Round Robin Challenge II Winner (2003)
ROH Decade of Excellence Winner (2017)
ECWA Super 8 Tournament Winner (2000, 2004)
APW King of the Indies Winner (2000)
Bar Wrestling Trios Tournament Winner (2019 - with Frankie Kazarian & Scorpio Sky)
GSW Battlefield Winner (2008)
ICW Impact Cup Winner (2010 - with Xavier)
MPW Futaritabi Tag Team League Winner (2002 - with Super Rice Boy)
NAWF CT Cup Winner
PWF 2nd Shinya Hashimoto Legacy Cup Winner (2002)
PWI Tag Team of the Year (2006 - with AJ Styles)
PWI Most Inspirational Wrestler of the Year (2017)
15° in the PWI 500 (2006)
WON Tag Team of the Year (2012 - with Kazarian)
Relations
Tag Teams & Stables

Christopher Daniels & Matt Sydal

-

Matt Sydal / Evan Bourne (

March 9, 2023

-

Present

)

Christopher Daniels & Yuya Uemura

-

Yuya Uemura

(

July 9, 2022

-

September 24, 2022

)

S.C.U.

-

Frankie Kazarian (

March 11, 2021

-

May 12, 2021

)

S.C.U. / SoCal Uncensored

-

Frankie Kazarian, Scorpio Sky (

December 16, 2017

-

March 10, 2021

)

The Addiction / Bad Influence

-

Frankie Kazarian (

January 5, 2012

-

December 31, 2018

)

Extraordinary Gentleman's Organization

-

Frankie Kazarian, Robert Roode (

August 8, 2013

-

October 20, 2013

)

Fortune

-

AJ Styles, Frankie Kazarian, James Storm, Robert Roode (

March 16, 2011

-

September 22, 2011

)

The House of Truth

-

Michael Elgin, Roderick Strong, Truth Martini (

April 2, 2011

-

June 26, 2011

)

Prince Justice Brotherhood

-

Eric Young, Shark Boy (

July 17, 2008

-

November 2, 2008

)

AJ Styles & Christopher Daniels

-

AJ Styles (

December 13, 2005

-

July 2, 2007

)

Christopher Daniels & Matt Sydal

-

Matt Sydal / Evan Bourne (

August 4, 2006

-

February 24, 2007

)

Triple X

-

Elix Skipper (

July 7, 2004

-

December 5, 2004

)

The Prophecy

-

B.J. Whitmer, Dan Maff, Mark Briscoe, Xavier,

Donovan Morgan, Simply Luscious, Allison Danger

(

June 22, 2002

-

June 12, 2004

)

Triple X

-

Elix Skipper, Low Ki (

December 18, 2002

-

July 31, 2003

)

S.E.X. - Sports Entertainment Xtreme

-

Chase Stevens, Chris Sabin, Disco Inferno / Glenn Gilbertti, Elix Skipper, Low Ki, Mickie James, Mike Sanders, Raven, Ricky Morton, Road Dogg, Robert Gibson, Vince Russo,

Ron Harris, Don Harris, Cassidy O'Reilly, Sonni Siaki, Erik Watts, David Flair, David Young, Mike

(

December 4, 2002

-

June 18, 2003

)

Managers

Jim Cornette
Christopher Daniels Game Appearances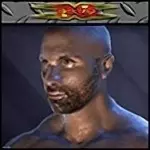 tna-impact