On this page, you find the full wrestling profile of Chris Sabin, with his Career History, real name, age, height and weight, the Promotions he worked for, all the Face/Heel turns, the Championship Titles he won, his Finishers, Theme Songs, Tag Teams and Stables, his appearance changes through the years, and more.
Joshua Harter was born in Pinckney, Michigan on February 4, 1982, and he is currently 41 years old.
He is currently a Wrestler, working for Impact Wrestling, NJPW and GCW on the STRONG division, under the ring name of Chris Sabin.
Profile Info
Gender

Male

Real Name

Joshua Harter

Ring Names

Chris Sabin

(

May 1, 2000

-

Present

)

Height

5 ft 11 in (180 cm)

Weight

Born

February 4, 1982 (age 41)

Birth Place

Pinckney, Michigan

Billed From
Career History
Roles

Wrestler

(

July 18, 2020

-

Present

)

Producer

(

March 21, 2019

-

July 17, 2020

)

Wrestler

(

May 1, 2000

-

January 12, 2019

)

Companies / Promotions

Promotion
from
to

Promotion

IMPACT

March 21, 2019

Present

Promotion

NJPW

Brand

STRONG

October 28, 2022

Present

Promotion

GCW

March 5, 2023

Present

Promotion

ROH

April 4, 2015

January 12, 2019

Promotion

NJPW

Brand

Junior Heavyweight

May 12, 2018

November 11, 2018

Promotion

PWG

August 30, 2014

April 3, 2015

Promotion

WXW

August 8, 2014

March 15, 2015

Promotion

TNA

April 9, 2003

May 9, 2014

Promotion

NJPW

Brand

Junior Heavyweight

January 4, 2009

December 12, 2010

Promotion

PWG

April 11, 2009

July 30, 2010

Promotion

ROH

April 18, 2008

August 2, 2008

Promotion

CMLL

July 25, 2008

September 19, 2008

Promotion

AJPW

June 24, 2007

August 26, 2007

Promotion

PWG

March 12, 2005

March 24, 2007

Promotion

ROH

June 14, 2003

February 14, 2004

Face / Heel Turns

| Alignment | from | to |
| --- | --- | --- |
| Face | February 26, 2016 | Present |
| Heel | September 19, 2013 | February 25, 2016 |
| Face | October 30, 2008 | September 18, 2013 |
| Heel | August 13, 2008 | October 29, 2008 |
| Face | November 11, 2007 | August 12, 2008 |
| Heel | November 16, 2006 | November 10, 2007 |
| Face | September 3, 2003 | November 15, 2006 |
| Heel | May 14, 2003 | September 2, 2003 |
| Face | April 9, 2003 | May 13, 2003 |

Images

Mar 2019

Apr 2015

May 2013

Jan 2010

Jan 2005

Apr 2003
Finishers

Cradle Shock

-

Cross-Legged Samoan Driver

(

June 14, 2003

-

Present

)

All Hail Sabin / CSV2

-

Cross-Legged Fisherman Driver

(

May 2, 2013

-

Present

)

Made in Detroit - with Alex Shelley

-

Sitout Powerbomb + Sliced Bread #2 combination

(

July 18, 2020

-

January 16, 2021

)

Skull and Bones - with Alex Shelley

-

Falling Neckbreaker + Diving Crossbody combination

(

July 18, 2020

-

January 16, 2021

)

Over Easy

-

Overhead Gutwrench Backbreaker Rack into a DDT

(

June 14, 2003

-

November 16, 2006

)

Future Shock

-

Cross-Legged Fisherman Buster

(

June 14, 2003

-

September 11, 2005

)

Made in Detroit - with Alex Shelley

-

Sitout Powerbomb + Sliced Bread #2 combination

(

March 12, 2007

-

July 20, 2018

)

Skull and Bones - with Alex Shelley

-

Falling Neckbreaker + Diving Crossbody combination

(

March 12, 2007

-

July 20, 2018

)

ASCS Rush - with Alex Shelley

-

Spinning Sole Kick followed by a Superkick followed by a simultaneous Enzuigiri + Superkick combination

(

March 12, 2007

-

July 20, 2018

)

Theme Songs

Theme Song

"Hail Sabin (Remix)" by Dale Oliver

-

Single

(

January 17, 2021

-

Present

)

Theme Song

"Motorcity" by Adam Skaggs - with Alex Shelley

-

Team

(

July 18, 2020

-

January 16, 2021

)

Theme Song

"Dead Weight" by The High Crusade

-

Single

(

July 21, 2018

-

January 12, 2019

)

Theme Song

"Woodward " by The High Crusade

-

Single

(

May 12, 2018

-

November 11, 2018

)

Theme Song

"All Ghosts To Medicine Counter Four" by Christian Fitness - with Alex Shelley

-

Team

(

February 26, 2016

-

July 20, 2018

)

Theme Song

"Flowing" by 311

-

Single

(

April 4, 2015

-

February 25, 2016

)

Theme Song

"Hail Sabin (Remix)" by Dale Oliver

-

Single

(

May 2, 2013

-

May 9, 2014

)

Theme Song

"Hail Sabin" by Dale Oliver

-

Single

(

June 14, 2003

-

May 1, 2013

)

Theme Song

"Motorcity" by Adam Skaggs - with Alex Shelley

-

Team

(

May 16, 2010

-

May 21, 2012

)

Theme Song

"Party with the Motor City" by Dale Oliver - with Alex Shelley

-

Team

(

January 1, 2008

-

May 15, 2010

)

Theme Song

"1967" by Dale Oliver - with Alex Shelley

-

Team

(

March 12, 2007

-

December 31, 2007

)

Theme Song

"Modern Oz" by Dale Oliver

-

Single

(

April 9, 2003

-

June 13, 2003

)
Titles & Accomplishments
Titles Won

Total Nonstop Action Wrestling / Impact Wrestling

1 TNA World Heavyweight Championship
8 TNA X Division Championship
3 TNA/Impact World Tag Team Championship (with Alex Shelley)

New Japan Pro Wrestling

1 IWGP Junior Heavyweight Tag Team Championship (with Alex Shelley)
1 NJPW STRONG Openweight Tag Team Championship (with Alex Shelley)

Ring of Honor

1 ROH World Tag Team Championship (with Alex Shelley)

Game Changer Wrestling

1 GCW Tag Team Championship (with Alex Shelley)

All American Wrestling

1 AAW Tag Team Championship (with Alex Shelley)

Blue Water Championship Wrestling

1 BWCW Cruiserweight Championship

Border City Wrestling

2 BCW Can-Am Television Championship

Discovery Wrestling

1 DW Y Division Championship

Great Lakes All-Pro Wrestling

1 GLAPW Junior Heavyweight Championship

International Wrestling Cartel

1 IWC Super Indy Championship

Maryland Championship Wrestling

2 MCW Cruiserweight Championship

Maximum Pro Wrestling

2 MXPW Cruiserweight Championship
1 MXPW Television Championship

Michigan Marquee Wrestling Association

1 MMWA Marquee Heavyweight Championship

NWA Great Lakes

1 NWA Great Lakes Heavyweight Championship
1 NWA Great Lakes Junior Heavyweight Championship

Pro Wrestling Zero1

1 NWA International Lightweight Tag Team Championship (with Alex Shelley)

Twin City Wrestling

1 TCW Heavyweight Championship

Ultimate Championship Wrestling

1 UCW Lightweight Championship

World Wrestling All-Stars

1 WWA International Cruiserweight Championship

Xtreme Intense Championship Wrestling

1 XICW Light Heavyweight Championaship
1 XICW Tag Team Championship (with Truth Martini)

Other Accomplishments

TNA Super X Cup Winner (2003)
TNA World X Cup Winner (2004 - with Jerry Lynn, Elix Skipper & Christopher Daniels)
TNA World X Cup Winner (2006 - with Alex Shelley, Sonjay Dutt & Jay Lethal)
TNA Triple Crown Champion
TNA Match of the Year (2003 - vs. Frankie Kazarian and Michael Shane, 20/10)
TNA Match of the Year (2003 - vs. Frankie Kazarian and Michael Shane, 20/10)
TNA Memorable Moment of the Year (2003 - for the first Ultimate X match)
TNA Tag Team of the Year (2007 - with Alex Shelley)
Impact Year End Award - Men's Tag Team of the Year (2022 - with Alex Shelley)
Impact Year End Award - Moment of the Year (2020 – for Motor City Machine Guns' return to Impact at Slammiversary)
AJPW Junior League Winner (2007)
IWC Super Indy Tournament Winner (2004)
NWA Florida Jeff Peterson Memorial Cup Winner (2005)
BCW Pro Wrestler of the Year (2007)
PWI Tag Team of the Year (2010 - with Alex Shelley)
28° in PWI 500 (2007)
WON Rookie of the Year (2003)
The Baltimore Sun Tag Team of the Year (2010 – with Alex Shelley)
Relations
Tag Teams & Stables

Motor City Machine Guns

-

Alex Shelley (

March 5, 2022

-

Present

)

Time Machine

-

Alex Shelley, Kushida (

August 18, 2022

-

Present

)

Beer Guns

-

James Storm (

January 19, 2021

-

March 13, 2021

)

Motor City Machine Guns

-

Alex Shelley (

July 18, 2020

-

January 16, 2021

)

Motor City Machine Guns

-

Alex Shelley (

February 26, 2016

-

July 20, 2018

)

Search and Destroy

-

Alex Shelley, Jay White, Jonathan Gresham (

April 8, 2017

-

November 17, 2017

)

Knights of the Rising Dawn

-

Christopher Daniels, Frankie Kazarian (

April 25, 2015

-

February 26, 2016

)

2 Guys Hanging Out

-

Will Ospreay (

August 10, 2014

-

March 15, 2015

)

Motor City Machine Guns

-

Alex Shelley (

March 12, 2007

-

May 21, 2012

)

The Front Line

-

AJ Styles, Alex Shelley, Bubba Ray Dudley / Bully Ray, Christopher Daniels, D-Von Dudley, Eric Young, Jay Lethal, ODB, Petey Williams, Rhyno / Rhino, Samoa Joe, Xavier Woods (

October 30, 2008

-

July 23, 2009

)

Team NWA

-

Christopher Daniels, Elix Skipper, Jerry Lynn, Sonjay Dutt (

February 11, 2004

-

June 16, 2004

)

Sports Entertainment Xtreme

-

Chase Stevens, Christopher Daniels, Disco Inferno / Glenn Gilbertti, Elix Skipper, Grandmaster Sexay / Brian Christopher, Low Ki, Mickie James, Raven, Ricky Morton, Road Dogg, Robert Gibson, Vince Russo,

Ron Harris, Don Harris, Cassidy O'Reilly, Sonni Siaki, Erik Watts, David Flair, David Young, Mike Sanders, Julio Dinero, Disgraceland, Holly Wood, Desire, Ashley Hudson

(

December 4, 2002

-

June 18, 2003

)

Managers

Trinity, Velvet Sky
Chris Sabin Game Appearances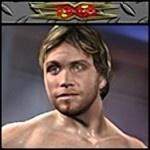 tna-impact