On this page, you find the full wrestling profile of Sean O'Haire, with his Career History, real name, age, height and weight, the Promotions he worked for, all the Face/Heel turns, the Championship Titles he won, his Finishers, Theme Songs, Tag Teams and Stables, his appearance changes through the years, and more.
Sean Christopher Haire was born in Atlanta, Georgia on February 25, 1971.
He died on September 8, 2014 at the age of 43.
Profile Info
Gender

Male

Real Name

Sean Christopher Haire

Ring Names

Sean O'Haire

(

May 25, 2000

-

March 28, 2006

)

Height

6 ft 6 in (198 cm)

Weight

Born

February 25, 1971

Died

September 8, 2014 (aged 43)

Birth Place

Atlanta, Georgia

Billed From

Hilton Head, South Carolina

(

May 25, 2000

-

March 28, 2006

)

Nicknames

The Devi's Advocate
Career History
Roles

MMA Fighter

(

September 18, 2004

-

December 7, 2007

)

Wrestler

(

May 25, 2000

-

March 28, 2006

)

Companies / Promotions

Promotion
from
to

Promotion

WWE

Brand

SmackDown

April 27, 2003

April 3, 2004

Promotion

OVW

February 1, 2004

April 3, 2004

Promotion

WWE

Brand

Raw

June 24, 2002

April 26, 2003

Promotion

OVW

September 1, 2001

July 19, 2002

Promotion

WWF

June 28, 2001

June 23, 2002

Promotion

WCW

May 25, 2000

March 26, 2001

Face / Heel Turns

| Alignment | from | to |
| --- | --- | --- |
| Heel | May 25, 2000 | March 28, 2006 |

Images

Jun 2001

May 2000
Finishers

Widowmaker

-

Reverse Thrown Death Valley Driver

Seanton Bomb

-

High-angle Senton Bomb

Theme Songs

Theme Song

"Come On", by Waterproof Blonde

-

Single

(

January 1, 2003

-

June 26, 2003

)

Theme Song

"Freestyle Hombre", by Kent Buchanon and Jim Johnston

-

Team

(

July 3, 2001

-

October 25, 2001

)

Theme Song

"Roadrage", by Jimmy Hart and Howard Helm

-

Team

(

June 26, 2000

-

September 25, 2000

)

Theme Song

"Natural Born Thrillers Theme", by Jimmy Hart and Howard Helm

-

Team

Theme Song

"OK Hold it There", by Jonathan Merrill, Phil Garrod, and Scott Schreer

-

Single
Titles & Accomplishments
Titles Won

World Championship Wrestling

2 WCW World Tag Team Championship (2 with Mark Jindrak, 1 with Chuck Palumbo)

Other Accomplishments

Victory Championship Wrestling Hall of Fame induction (class of 2018)
WON Rookie of the Year award (2000)
Relations
Sean O'Haire Game Appearances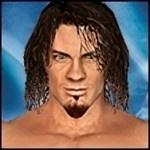 here-comes-the-pain