On this page, you find the full wrestling profile of Daffney, with her Career History, real name, age, height and weight, the Promotions she worked for, all the Face/Heel turns, the Championship Titles she won, her Finishers, Theme Songs, Tag Teams and Stables, her appearance changes through the years, and more.
Shannon Claire Spruill was born in Wiesbaden Army Airfield, Wiesbaden, Hesse, West Germany on July 17, 1975.
She died on September 2, 2021 at the age of 46.
Profile Info
Gender

Female

Real Name

Shannon Claire Spruill

Ring Names

Daffney

(

April 2, 2009

-

December 31, 2015

)

The Governor

(

December 1, 2008

-

April 1, 2009

)

Daffney

(

June 5, 2008

-

November 30, 2008

)

Lucy Furr

(

May 5, 2007

-

June 4, 2008

)

Daffney

(

November 1, 1999

-

May 4, 2007

)

Born

July 17, 1975

Died

September 2, 2021 (aged 46)

Nationality

Germany

Birth Place

Wiesbaden Army Airfield, Wiesbaden, Hesse, West Germany

Billed From

Height

5 ft 6 in (168 cm)

Weight

Nicknames

The Scream Queen
Career History
Roles

Manager

(

July 1, 2012

-

December 31, 2015

)

Wrestler

(

March 23, 2000

-

December 6, 2010

)

Manager

(

November 1, 1999

-

February 2, 2001

)

Companies / Promotions

Promotion
from
to

Promotion

SHINE

July 1, 2012

December 31, 2015

Promotion

TNA

December 1, 2008

March 15, 2011

Promotion

INDY

February 25, 2006

October 2, 2010

Promotion

SHIMMER

July 1, 2007

September 12, 2010

Promotion

NWA

June 2, 2006

March 14, 2009

Promotion

WCW

November 1, 1999

February 2, 2001

Face / Heel Turns

| Alignment | from | to |
| --- | --- | --- |
| Heel | May 14, 2009 | December 31, 2015 |
| Face | April 2, 2009 | May 13, 2009 |
| Heel | November 1, 1999 | April 1, 2009 |

Images

Jun 2011

Feb 2010

Apr 2009

Dec 2008

Nov 1999
Finishers

Lobotomy

-

Bridging Swinging Ffisherman Suplex

(

December 1, 2008

-

December 6, 2010

)

Daff Knees

-

Single Knee Facebreaker

(

January 1, 2008

-

December 6, 2010

)

Frankenscreamer

-

Frankensteiner

(

October 1, 2008

)

Theme Songs

Theme Song

"Psychotic" by Dale Oliver

-

Single

(

December 1, 2008

-

March 15, 2011

)
Titles & Accomplishments
Titles Won

World Championship Wrestling

1 WCW Cruiserweight Championship (with Crowbar)

Anarchy Championship Wrestling

1 ACW American Joshi Championship

Great Championship Wrestling

1 GCW Women's Championship

NWA Wrestle Birmingham

1 NWA Wrestle Birmingham Junior Heavyweight Championship
Relations
Tag Teams & Stables

Daffney's All Star Squad

-

Awesome Kong / Kharma, Roxxi, Ruby Soho / Riott, Sarah Logan, Solo Darling,

Kimberly

(

July 12, 2013

-

December 11, 2015

)

The New Blood

-

Alundra Blayze / Madusa, Bam Bam Bigelow, Billy Kidman, Booker T, Bret Hart, Buff Bagwell, Chris Kanyon, Chuck Palumbo, David Arquette, Disco Inferno / Glenn Gilbertti, Eric Bischoff, Ernest Miller, Goldberg, Horace Hogan, Jeff Jarrett, Johnny Stamboli, Juventud Guerrera, Konnan, Lance Storm, Mark Jindrak / Marco Corleone, Mike Awesome, Mike Sanders, Rey Mysterio, Scott Steiner, Sean O'Haire, Shane Douglas, Shawn Stasiak, Stacy Keibler, Sunny / Tammy Lynn Sytch, Torrie Wilson, Vampiro, Vince Russo, Vito,

Crowbar, David Flair, Reno, The Wall, Tylene Buck, Kimberly Page, Midajah, M.I. Smooth, Shakira

(

April 10, 2000

-

July 9, 2000

)

Wrestlers managed

Raven, Ruby Soho / Riott, Solo Darling
Daffney Game Appearances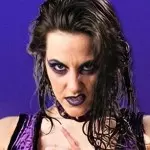 the-wrestling-code