On this page, you find the full wrestling profile of Buff Bagwell, with his Career History, real name, age, height and weight, the Promotions he worked for, all the Face/Heel turns, the Championship Titles he won, his Finishers, Theme Songs, Tag Teams and Stables, his appearance changes through the years, and more.
Marcus Alexander Bagwell was born in Woodstock, Georgia on January 10, 1970, and he is currently 53 years old.
He is currently a Wrestler, working for Independent promotions, under the ring name of Marcus Bagwell.
Profile Info
Gender

Male

Real Name

Marcus Alexander Bagwell

Ring Names

Marcus Bagwell

(

July 28, 2022

-

Present

)

Buff Bagwell

(

January 25, 1997

-

July 27, 2022

)

Marcus Alexander Bagwell

(

November 5, 1991

-

January 24, 1997

)

The Handsome Stranger

(

July 11, 1991

-

November 4, 1991

)

Fabulous Fabian

(

January 1, 1990

-

July 10, 1991

)

Born

January 10, 1970 (age 53)

Nationality

United States

Birth Place

Woodstock, Georgia

Billed From

Height

6 ft 1 in (185 cm)

Weight

Nicknames

Buff Daddy; The Stuff
Career History
Roles

Wrestler

(

January 1, 1990

-

Present

)

Companies / Promotions

Promotion
from
to

Promotion

INDY

November 12, 2001

Present

Promotion

NWA

August 9, 2008

February 26, 2011

Promotion

WWF

July 2, 2001

July 9, 2001

Promotion

WCW

November 5, 1991

March 26, 2001

Face / Heel Turns

| Alignment | from | to |
| --- | --- | --- |
| Heel | November 25, 1996 | Present |
| Face | November 19, 1991 | November 24, 1996 |
| Tweener | January 1, 1991 | November 18, 1991 |

Images

Jul 2022

Mar 2014

Nov 1996

Nov 1991

Jul 1991

Jan 1990
Finishers

Buff Blockbuster

-

Middle Rope Somersault Neckbreaker

(

January 25, 1997

-

Present

)

Theme Songs

Theme Song

"King of the World (Instrumental)" by Porcelain and the Tramps

-

Single

(

April 27, 2006

-

December 15, 2006

)

Theme Song

"Buff Daddy", by Jimmy Hart and Howard Helm

-

Single

(

January 25, 1997

-

July 9, 2001

)

Theme Song

"American Males", by Jimmy Hart and Howard Helm

-

Team

(

August 21, 1995

-

December 13, 1996

)
Titles & Accomplishments
Titles Won

World Championship Wrestling

5 WCW World Tag Team Championship (1 with Too Cold Scorpio, 2 with The Patriot, 1 with Scotty Riggs, 1 with Shane Douglas)

National Wrestling Alliance / Mid-Atlantic Championship Wrestling

1 MACW Hardcore Championship
2 MACW Heavyweight Championship
2 NWA Mid-Atlantic Heavyweight Championship
3 NWA Mid-Atlantic Tag Team Championship (1 with Dusty Rhodes, 2 with Rikki Nelson)
1 NWA Blue Ridge Television Championship

Ultimate National Wrestling Alliance

1 Ultimate NWA Heavyweight Championship

American Premier Wrestling

1 APW Heavyweight Championship

AWA Superstars of Wrestling

1 AWA Superstars of Wrestling World Tag Team Championship (with the Patriot)

Cleveland All-Pro World Wrestling

1 CAPW Unified World Heavyweight Championship

Georgia All-Star Wrestling

1 GASW Tag Team Championship (with Chris Walker)

Great American Wrestling Federation

1 GAWF Heavyweight Championship

Great Championship Wrestling

1 GCW Tag Team Championship (with Scott Steele)

Mayhem Wrestling

1 Mayhem Heavyweight Championship

North American Championship Wrestling

1 NACW Tag Team Championship (with Ricky Morton)

North Carolina Wrestling Association

1 NCWA Heavyweight Championship

Not Rated Pro Wrestling

1 NRPW World Championship

Ron's Championship Wrestling

1 RCW Heavyweight Championship

Wrestling War Zone

Xtreme Intense Championship Wrestling

2 XICW Midwest Heavyweight Championship

Other Accomplishments

66° in PWI Singles 500 (1999)
221° in PWI Years Singles 500 (2003)
WON Best Gimmick (1996 - NWO)
WON Feud of the Year (1996 - NWO vs WCW)
WON Most Embarrassing Wrestler of the Year (2001)
Relations
Tag Teams & Stables

Totally Buff

-

Lex Luger (

January 7, 2001

-

March 18, 2001

)

nWo Elite

-

Disco Inferno / Glenn Gilbertti, Eric Bischoff, Hulk Hogan, Kevin Nash / Diesel, Konnan, Lex Luger, Miss Elizabeth, Scott Hall / Razor Ramon, Scott Steiner, Torrie Wilson,

David Flair

(

January 4, 1999

-

March 15, 1999

)

nWo Hollywood

-

Barry Windham, Big Show, Bret Hart, Brutus Beefcake, Crush / Brian Adams, Dusty Rhodes, Eric Bischoff, Hulk Hogan, Miss Elizabeth, Mr. Perfect Curt Hennig, Rick Rude, Scott Hall / Razor Ramon, Scott Steiner, Stevie Ray, Virgil / Vincent,

nWo Sting, Horace Hogan, Mark Johnson

(

July 20, 1998

-

January 4, 1999

)

nWo

-

Big Boss Man, Brutus Beefcake, Crush / Brian Adams, Dusty Rhodes, Eric Bischoff, Hulk Hogan, Irwin R. Schyster / Mike Rotunda, Kevin Nash / Diesel, Konnan, Million Dollar Man Ted DiBiase, Miss Elizabeth, Mr. Perfect Curt Hennig, Randy Savage, Rick Rude, Scott Hall / Razor Ramon, Scott Norton, Scott Steiner, Virgil / Vincent,

nWo Sting, Louie Spicolli, Nick Patrick

(

October 25, 1996

-

April 27, 1998

)

nWo Japan

-

Hiro Saito, Hiroyoshi Tenzan, Irwin R. Schyster / Mike Rotunda, Scott Norton, The Great Muta / Keiji Muto,

Masahiro Chono, nWo Sting, Tatsutoshi Goto, Michiyoshi Ohara

(

February 1, 1997

-

September 30, 1997

)

Vicious and Delicious

-

Scott Norton (

April 28, 1997

-

April 27, 1998

)

American Males

-

Scotty Riggs

(

August 21, 1995

-

December 13, 1996

)

Stars & Stripes

-

The Patriot (

May 12, 1994

-

May 5, 1995

)

2 Cold

-

2 Cold Scorpio (

February 8, 1993

-

March 30, 1994

)

Marcus Bagwell and Brad Armstrong

-

Brad Armstrong

(

September 8, 1992

-

January 15, 1993

)

Marcus Bagwell and Tom Zenk

-

Tom Zenk

(

February 15, 1992

-

June 28, 1992

)

Managers

Theodore Long
Buff Bagwell Game Appearances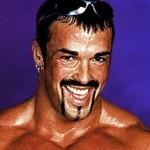 the-wrestling-code