On this page, you find the full wrestling profile of Steve Cutler / Maclin, with his Career History, real name, age, height and weight, the Promotions he worked for, all the Face/Heel turns, the Championship Titles he won, his Finishers, Theme Songs, Tag Teams and Stables, his appearance changes through the years, and more.
Thomas Maclin was born in Rutherford, New Jersey on May 26, 1987, and he is currently 35 years old.
He is currently a Wrestler, working for Impact Wrestling, under the ring name of Steve Maclin.
Profile Info
Gender

Male

Real Name

Thomas Maclin

Ring Names

Steve Maclin

(

June 3, 2021

-

Present

)

Steve Cutler

(

June 12, 2014

-

June 2, 2021

)

Tommy Maclin

(

January 26, 2013

-

June 11, 2014

)

Height

6 ft 0 in (183 cm)

Weight

Born

May 26, 1987 (age 35)

Birth Place

Rutherford, New Jersey

Billed From

Nicknames

The Trademark
Career History
Roles

Wrestler

(

January 26, 2013

-

Present

)

Companies / Promotions

Promotion
from
to

Promotion

IMPACT

June 17, 2021

Present

Promotion

WWE

Brand

SmackDown

December 4, 2020

February 5, 2021

Promotion

WWE

October 9, 2020

December 3, 2020

Promotion

WWE

Brand

SmackDown

April 10, 2020

October 8, 2020

Promotion

WWE

Brand

NXT

June 12, 2014

April 9, 2020

Face / Heel Turns

| Alignment | from | to |
| --- | --- | --- |
| Heel | June 12, 2014 | Present |

Images

Jun 2021

Dec 2020

Apr 2020

Jan 2019

Feb 2018

Jun 2014
Finishers

The Trademark Plex

-

Sitout Fisherman Driver

(

June 12, 2014

-

Present

)

Mayhem for All

-

Lifting Inverted Front Facelock into a Sitout scoop slam piledriver

(

June 17, 2021

-

Present

)

Reverse DDT + Diving Foot Stomp combination - with Wesley Blake

(

April 20, 2017

-

February 5, 2021

)

Theme Songs

Theme Song

"Mayhem" by Matt Koon

-

Single

(

June 17, 2021

-

Present

)

Theme Song

"Do Unto Others" by CFO$ - with The Forgotten Sons

-

Team

(

August 29, 2018

-

December 3, 2020

)

Theme Song

"Broken Bones" by Mike Walpole

-

Single

(

August 8, 2016

-

August 28, 2018

)

Theme Song

"Hate Disgrace" by Vizzahh

-

Single

(

June 12, 2014

-

August 7, 2016

)
Titles & Accomplishments
Titles Won

Monster Factory Pro Wrestling

1 MFPW Heavyweight Championship
1 MFPW Tag Team Championship (with Mike Spanos)
Relations
Tag Teams & Stables

Wesley Blake & Steve Cutler

-

Wesley Blake (

December 4, 2020

-

February 5, 2021

)

The Knights of the Lone Wolf

-

Baron Corbin, Wesley Blake (

December 4, 2020

-

February 5, 2021

)

The Forgotten Sons

-

Jaxson Ryker / Gunner, Wesley Blake (

February 17, 2018

-

December 3, 2020

)

Wesley Blake & Steve Cutler

-

Wesley Blake (

April 20, 2017

-

February 16, 2018

)

Flexx Appeal

-

Mike Spanos

(

March 9, 2013

-

November 16, 2013

)
Steve Cutler / Maclin Game Appearances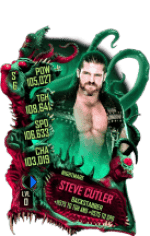 supercard