On this page, you find the full wrestling profile of George Steele, with his Career History, real name, age, height and weight, the Promotions he worked for, all the Face/Heel turns, the Championship Titles he won, his Finishers, Theme Songs, Tag Teams and Stables, his appearance changes through the years, and more.
William James Myers was born in Detroit, Michigan on April 16, 1937.
He died on February 16, 2017 at the age of 79.
George Steele was inducted in the WWE Hall of Fame in 1995 as an individual and in the Professional Wrestling Hall of Fame (PWHF) in 2005 as part of the Modern Era wing.
Profile Info
Gender

Male

Real Name

William James Myers

Ring Names

George Steele

(

February 19, 1966

-

September 30, 2000

)

Jim Steele

(

November 17, 1972

-

March 2, 1973

)

The Student

(

February 19, 1965

-

December 9, 1967

)

Born

April 16, 1937

Died

February 16, 2017 (aged 79)

Nationality

United States

Birth Place

Detroit, Michigan

Billed From

Height

6 ft 1 in (185 cm)

Weight

Nicknames

The Animal
Career History
Roles

Wrestler

(

July 12, 1997

-

September 30, 2000

)

Producer

(

August 25, 1988

-

October 1, 1990

)

Wrestler

(

February 19, 1965

-

August 24, 1988

)

Companies / Promotions

Promotion
from
to

Promotion

WWF

December 13, 1998

December 15, 1999

Promotion

WWF

April 19, 1983

October 1, 1990

Promotion

WWF

April 8, 1981

October 24, 1981

Promotion

NJPW

Brand

Heavyweight

June 29, 1979

August 2, 1979

Promotion

WWWF

June 21, 1975

December 16, 1978

Promotion

NWA

November 17, 1972

January 1, 1977

Promotion

WWWF

May 2, 1968

September 15, 1973

Promotion

NWA

February 19, 1965

February 17, 1968

Face / Heel Turns

| Alignment | from | to |
| --- | --- | --- |
| Heel | July 12, 1997 | September 30, 2000 |
| Face | May 11, 1985 | October 1, 1990 |
| Heel | February 19, 1965 | May 10, 1985 |

Images

Feb 1966

Feb 1965
Finishers

Flying Hammerlock

-

Elevated Hammerlock

(

July 12, 1997

-

September 30, 2000

)

Flying Hammerlock

-

Elevated Hammerlock

(

February 19, 1965

-

August 24, 1988

)

Big Splash

(

February 19, 1965

-

August 24, 1988

)

Theme Songs

Theme Song

"I'm An Animal" by Sly & The Family Stone

-

Single

(

May 2, 1968

-

August 24, 1988

)
Titles & Accomplishments
Halls of Fame

WWE Hall of Fame

-

Year

1995

,

Individual

Professional Wrestling Hall of Fame (PWHF)

-

Year

2005

,

Modern Era

Titles Won

Big Time Wrestling

1 NWA World Tag Team Championship (Detroit version) (with Frankie Laine)

Grande Wrestling Alliance

1 GWA Heavyweight Championship

National Wrestling Federation

1 NWF North American Heavyweight Championship

Superstars of Wrestling (Newfoundland)

1 SoW Canadian Heavyweight Championship

Other Accomplishments

WWF Slammy Award - Best Performance by an Animal (1987)
Cauliflower Alley Club's Other honoree (2004)
Relations
George Steele Game Appearances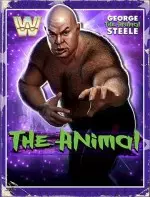 champions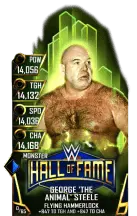 supercard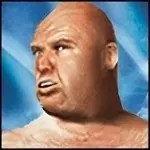 here-comes-the-pain