On this page, you find the full wrestling profile of Zach Gowen, with his Career History, real name, age, height and weight, the Promotions he worked for, all the Face/Heel turns, the Championship Titles he won, his Finishers, Theme Songs, Tag Teams and Stables, his appearance changes through the years, and more.
Zachary Mark Gowen was born in Ypsilanti, Michigan on March 30, 1983, and he is currently 39 years old.
Profile Info
Gender

Male

Real Name

Zachary Mark Gowen

Ring Names

Zach Gowen

(

March 16, 2002

-

Present

)

Tenacious Z

(

May 4, 2002

-

March 7, 2003

)

Height

5 ft 11 in (180 cm)

Weight

Born

March 30, 1983 (age 39)

Birth Place

Ypsilanti, Michigan

Billed From

Nicknames

Gowen's left leg was amputated when he was eight years old; he is the only one-legged competitor ever to compete in WWE.
Career History
Roles

Wrestler

(

March 16, 2002

-

June 4, 2022

)

Companies / Promotions

Promotion
from
to

Promotion

INDY

February 13, 2004

June 4, 2022

Promotion

ROH

November 12, 2010

November 13, 2010

Promotion

TNA

May 15, 2005

June 21, 2005

Promotion

WWE

Brand

SmackDown

May 15, 2003

February 4, 2004

Face / Heel Turns

| Alignment | from | to |
| --- | --- | --- |
| Face | March 16, 2002 | June 4, 2022 |

Images

Mar 2002
Finishers

Diving Moonsault

(

March 16, 2002

-

June 4, 2022

)

Theme Songs

Theme Song

"Out of My Way" by Seether

-

Single

(

May 15, 2003

-

February 4, 2004

)
Titles & Accomplishments
Titles Won

3XWrestling

1 3XW Heavyweight Championship

All American Wrestling

1 AAW Tag Team Championship (with Krotch)

Blue Water Championship Wrestling

1 BWCW Heavyweight Championship

CLASH Wrestling

1 CLASH Tag Team Championship (with Gregory Iron)

Cleveland All-Pro Wrestling

1 CAPW Junior Heavyweight Championship

Independent Wrestling Revolution

1 IWR King of the Indies Championship
1 IWR Tag Team Championships (with Kamikaze)

Michigan Championship Wrestling Association

1 MCWA Heavyweight Championship

Mid American Wrestling

1 MAW Tag Team Championships (with Silas Young)

Mr. Chainsaw Productions Wrestling

1 MCPW Tag Team Championship (with Gregory Iron)

Prime Wrestling

2 Prime Tag Team Championship (with Gregory Iron)

Pro Wrestling All-Stars Of Detroit

1 PWASD Tag Team Championship (with Gregory Iron)

Pro Wrestling Syndicate

1 PWS Tag Team Championship (with Gregory Iron)

Pure Pro Wrestling

1 PPW Michigan State Championship

PPW Michigan State Championship

3 XICW Light Heavyweight Championship
1 XICW Xtreme Intense Championship
1 XICW Tag Team Championship (with Jaimy Coxxx)
1 Downriver Championship

Other Accomplishments

PWI Most Inspirational Wrestler of the Year (2003)
PWI Rookie of the Year (2003)
Relations
Tag Teams & Stables

The Handicapped Heroes

-

Gregory Iron

(

December 7, 2012

-

April 23, 2022

)

The Fun Lovin' Criminals

-

Eddie Venom, Jaimy Coxxx, The DBA

(

September 28, 2013

-

December 1, 2013

)

The House of Truth

-

Michael Elgin, Roderick Strong, Truth Martini (

November 12, 2010

-

November 13, 2010

)

The Age of the Fall

-

Jimmy Jacobs, Joey Mercury, Seth Rollins,

Necro Butcher

(

February 22, 2008

-

April 20, 2008

)

The Pimp and Gimp Connection

-

Human Tornado

(

March 14, 2007

-

August 11, 2007

)

The Michigan Invasion

-

Truth Martini,

N8 Mattson, Eddie Venom, Tyler Hollister, Jaimy Coxxx

(

January 7, 2006

-

July 15, 2006

)
Zach Gowen Game Appearances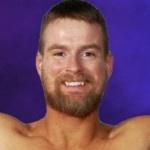 the-wrestling-code