On this page, you find the full wrestling profile of Bob Backlund, with his Career History, real name, age, height and weight, the Promotions he worked for, all the Face/Heel turns, the Championship Titles he won, his Finishers, Theme Songs, Tag Teams and Stables, his appearance changes through the years, and more.
Robert Louis Backlund was born in Princeton, Minnesota on August 14, 1949, and he is currently 74 years old.
He is currently a Ambassador, working for WWE.
Bob Backlund was inducted in the WWE Hall of Fame in 2013 as an individual, in the NJPW Greatest 18 Club in 1990 and in the Professional Wrestling Hall of Fame in 2008 as part of the Modern Era wing.
Profile Info
Gender

Male

Real Name

Robert Louis Backlund

Ring Names

Bob Backlund

(

June 1, 1973

-

Present

)

Born

August 14, 1949 (age 74)

Nationality

United States

Birth Place

Princeton, Minnesota

Billed From

Height

6 ft 1 in (185 cm)

Weight
Career History
Roles

Ambassador

(

January 1, 2020

-

Present

)

Ambassador

(

December 10, 2007

-

October 29, 2017

)

Manager

(

May 5, 2016

-

October 29, 2017

)

Wrestler

(

June 1, 1973

-

March 31, 2014

)

Companies / Promotions

Promotion
from
to

Promotion

WWE

January 1, 2020

Present

Promotion

WWE

Brand

Raw

July 19, 2016

October 29, 2017

Promotion

WWE

December 10, 2007

July 18, 2016

Promotion

TNA

January 14, 2007

July 15, 2007

Promotion

WWF

July 1, 1992

April 2, 2000

Promotion

AWA

October 23, 1984

August 26, 1985

Promotion

NWA

March 6, 1974

November 13, 1984

Promotion

WWF

December 7, 1976

August 4, 1984

Promotion

NJPW

Brand

Heavyweight

November 30, 1979

September 3, 1984

Promotion

AWA

June 1, 1973

October 21, 1977

Promotion

AJPW

July 5, 1974

March 13, 1975

Face / Heel Turns

| Alignment | from | to |
| --- | --- | --- |
| Heel | July 30, 1994 | October 29, 2017 |
| Face | June 1, 1973 | July 29, 1994 |

Images

Jan 2007

Jan 1980

Jun 1973
Finishers

Crossface Chickenwing

(

June 1, 1973

-

March 31, 2014

)

Atomic Spinecrusher

-

Running Atomic Drop

(

June 1, 1973

-

December 31, 1989

)

Atomic Knee Drop

-

Diving Knee Drop

(

June 1, 1973

-

December 31, 1978

)

Theme Songs

Theme Song

"Hail To The Chief" by Jim Johnston

-

Single

(

December 7, 1976

-

April 2, 2000

)
Titles & Accomplishments
Hall of Fame

WWE Hall of Fame

-

Year

2013

,

Individual

NJPW Greatest 18 Club

-

Year

1990

,

Individual

Professional Wrestling Hall of Fame

-

Year

2008

,

Modern Era

Titles Won

World Wide Wrestling Federation / World Wrestling Federation

2 WWWF/WWF Championship
1 WWF Tag Team Championship (with Pedro Morales)

Championship Wrestling from Florida

1 NWA Florida Tag Team Championship (with Steve Keirn)

Georgia Championship Wrestling

1 NWA Georgia Tag Team Championship (with Jerry Brisco)

NWA Western States Sports

3 NWA Western States Heavyweight Championship

Northeast Wrestling Federation

1 NEWF Heavyweight Championship

St. Louis Wrestling Club

1 NWA Missouri Heavyweight Championship

Western States Sports

3 NWA Western States Heavyweight Championship

Wrestling and Romance

1 WAR World Six-Man Tag Team Championship (with Scott Putski & The Warlord)

Other Accomplishments

NJPW MSG Tag League Winner (1980 – with Antonio Inoki)
George Tragos/Lou Thesz Professional Wrestling Hall of Fame induction (class of 2016)
WWF Slammy Award - Most Eccentric (1994)
PWI Wrestler of the Year (1980, 1982)
PWI Most Hated Wrestler of the Year (1994)
PWI Most Inspirational Wrestler of the Year (1977, 1981)
PWI Rookie of the Year (1976)
PWI Match of the Year (1978 - vs. Billy Graham, on 02/20)
PWI Match of the Year (1982 - vs. Jimmy Snuka, Steel Cage match on 06/28)
7° in PWI Years Top 500 (2003)
Wrestling Observer Newsletter Hall of Fame induction (Class of 2004)
WON Best Technical Wrestler (1980)
WON Match of the Year (1980 - vs. Ken Patera, Texas Death match at WWF on MSG Network)
Relations
Bob Backlund Game Appearances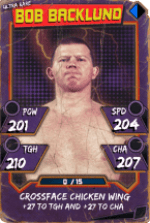 supercard