On this page, you find the full wrestling profile of Adam Pearce, with his Career History, real name, age, height and weight, the Promotions he worked for, all the Face/Heel turns, the Championship Titles he won, his Finishers, Theme Songs, Tag Teams and Stables, his appearance changes through the years, and more.
Adam John Pearce was born in Lake Forest, Illinois on June 24, 1978, and he is currently 44 years old.
He is currently a Producer and Assistant GM, working for WWE on the Raw and SmackDown brand.
Profile Info
Gender

Male

Real Name

Adam John Pearce

Ring Names

Adam Pearce

(

May 16, 1996

-

Present

)

Adam O'Brien

(

March 31, 1997

-

August 23, 1997

)

Masked Spymaster II

(

January 29, 2005

-

May 21, 2005

)

Height

6 ft 2 in (188 cm)

Weight

Born

June 24, 1978 (age 44)

Birth Place

Lake Forest, Illinois

Billed From

Nicknames

Scrap Iron
Career History
Roles

Producer

(

May 1, 2015

-

Present

)

Assistant GM

(

August 28, 2020

-

Present

)

Wrestler

(

May 16, 1996

-

December 21, 2014

)

Producer

(

October 26, 2008

-

August 15, 2010

)

Companies / Promotions

Promotion
from
to

Promotion

WWE

Brand

Raw

SmackDown

August 28, 2020

Present

Promotion

WWE

May 1, 2015

Present

Promotion

NWA

October 21, 2006

December 21, 2014

Promotion

INDY

May 16, 1996

December 21, 2014

Promotion

ROH

September 17, 2005

August 15, 2010

Promotion

PWG

July 26, 2003

July 10, 2004

Face / Heel Turns

| Alignment | from | to |
| --- | --- | --- |
| Heel | July 15, 2006 | December 21, 2014 |
| Face | September 17, 2005 | July 14, 2006 |
| Heel | February 22, 2004 | September 16, 2005 |
| Face | July 26, 2003 | February 21, 2004 |

Images

Aug 2020

May 2015

Jan 2000

May 1996
Finishers

Rackbomb

-

Torture Rack Powerbomb

(

May 16, 1996

-

December 21, 2014

)

Flying Body Splash

(

May 16, 1996

-

December 21, 2014

)

Theme Songs

Theme Song

"Prelude to a Bludgeoning" by Girthtones

-

Single

(

August 16, 2010

-

December 21, 2014

)

Theme Song

"Black Betty" by Ram Jam

-

Single

(

July 15, 2006

-

August 15, 2010

)

Theme Song

"Vampires" by Godsmack - with The Hangman Three

-

Team

(

September 15, 2007

-

March 16, 2008

)

Theme Song

"Run Through the Jungle" by Creedence Clearwater Revival

-

Single

(

September 17, 2005

-

July 14, 2006

)

Theme Song

"Free Bird" by Lynyrd Skynyrd

-

Single

(

July 26, 2003

-

July 10, 2004

)
Titles & Accomplishments
Titles Won

National Wrestling Alliance

5 NWA World Heavyweight Championship
1 NWA British Commonwealth Heavyweight Championship

Pro Wrestling Guerrilla

All-Star Championship Wrestling

1 ACW Heavyweight Championship
1 ACW Television Championship

Alternative Wrestling Show

1 AWS Heavyweight Championship

NWA Pro Wrestling

2 NWA Heritage Championship

Great Lakes Wrestling

1 GLW Heavyweight Championship

Independent Wrestling Association Mid-South

1 IWA Mid-South Light Heavyweight Championship

Metro Pro Wrestling

1 Metro Pro Heavyweight Championship

Mid-American Wrestling

1 MAW Heavyweight Championship

Professional Championship Wrestling

1 PCW Australian National Championship

Steel Domain Wrestling

1 SDW Northern States Television Championship

Ultimate Pro Wrestling

1 UPW Heavyweight Championship

Other Accomplishments

NWA Hall of Fame induction (class of 2015)
NWA Reclaiming the Glory Tournament Winner (2007)
NWA NWA Heritage Title Tournament Winner (2006)
UPW Heavyweight Title Tournament Winner (2003)
Cauliflower Alley Club Men's Wrestling Award (2014)
Relations
Tag Teams & Stables

The Family Stone

-

Eric Watts, James Morgan, Cedric The Hitman

(

June 10, 2012

-

July 22, 2012

)

The Standard

-

Austin Aries, Peter Avalon,

Joey Kaos

(

November 3, 2010

-

March 6, 2011

)

Sweet 'n' Sour Inc.

-

Davey Richards, Eddie Edwards, James Dick, Kassius Ohno / Chris Hero, Sara Amato / Sara Del Rey,

Larry Sweeney, Brent Albright, Shane Hagadorn, Bobby Dempsey, Go Shiozaki

(

April 19, 2008

-

January 31, 2009

)

The Hangmen Three

-

B.J. Whitmer,

Brent Albright, Shane Hagadorn

(

September 15, 2007

-

March 16, 2008

)

Hardkore Inc.

-

Hardkore Kidd, Al Katrazz

(

March 14, 2001

-

May 29, 2004

)

Managers

Jim Cornette
Adam Pearce Game Appearances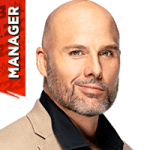 wwe2k23