On this page, you find the full wrestling profile of Rodney Mack, with his Career History, real name, age, height and weight, the Promotions he worked for, all the Face/Heel turns, the Championship Titles he won, his Finishers, Theme Songs, Tag Teams and Stables, his appearance changes through the years, and more.
Rodney Begnaud was born in Lafayette, Louisiana on October 12, 1970, and he is currently 52 years old.
He is currently a Wrestler, working for NWA and Independent promotions, under the ring name of Damage.
Profile Info
Gender

Male

Real Name

Rodney Begnaud

Ring Names

Damage

(

November 30, 2022

-

Present

)

Rodney Mack

(

February 16, 2003

-

Present

)

Badd Dogg

(

October 16, 2002

-

February 15, 2003

)

Redd Dogg

(

May 1, 1998

-

January 28, 2003

)

Notorious D.O.G.

(

July 8, 1998

-

August 19, 2000

)

Rod Begnaud

(

May 1, 1998

-

January 10, 1999

)

Height

6 ft 2 in (188 cm)

Weight

Born

October 12, 1970 (age 52)

Birth Place

Lafayette, Louisiana

Billed From
Career History
Roles

Wrestler

(

March 20, 2015

-

Present

)

Wrestler

(

April 9, 2011

-

July 15, 2012

)

MMA Fighter

(

June 7, 2008

-

August 8, 2008

)

Wrestler

(

May 1, 1998

-

June 1, 2007

)

Companies / Promotions

Promotion
from
to

Promotion

NWA

January 25, 2022

Present

Promotion

INDY

March 20, 2015

Present

Promotion

NWA

March 20, 2015

October 8, 2017

Promotion

INDY

April 9, 2011

July 15, 2012

Promotion

INDY

February 24, 2007

June 1, 2007

Promotion

WWE

Brand

ECW

September 15, 2006

January 18, 2007

Promotion

INDY

February 5, 2005

August 12, 2006

Promotion

WWE

Brand

Raw

February 16, 2003

November 4, 2004

Promotion

WWE

Brand

SmackDown

January 16, 2003

February 15, 2003

Promotion

OVW

November 29, 2001

July 7, 2004

Promotion

ECW

June 30, 2000

October 21, 2000

Face / Heel Turns

| Alignment | from | to |
| --- | --- | --- |
| Heel | March 20, 2015 | Present |
| Heel | April 9, 2011 | July 15, 2012 |
| Heel | May 1, 1998 | June 1, 2007 |

Images

Nov 2022

Mar 2015

May 1998
Finishers

Black Out

-

Camel Clutch

(

May 1, 1998

-

Present

)

Theme Songs

Theme Song

"Hello Zepp" by Charlie Clouser

-

Single

(

February 5, 2005

-

July 15, 2012

)

Theme Song

"I Don't Care" by Jim Johnston

-

Single

(

July 26, 2004

-

November 4, 2004

)

Theme Song

"MacMilitant" by Miestro feat. Jim Johnston

-

Single

(

February 16, 2003

-

July 25, 2004

)

Theme Song

"Another One Bites the Dust" by Queen

-

Single

(

November 29, 2001

-

July 7, 2004

)
Titles & Accomplishments
Titles Won

Allied Independent Wrestling Federations

1 AIWF World Heavyweight Championship
1 AIWF Southwest Championship

All American Wrestling (Louisiana)

1 AAW Tag Team Championship (with Heidenreich)

Elite Championship Wrestling

1 NWA Elite Heavyweight Championship

Insane Hardcore Wrestling / Iconic Heroes of Wrestling Entertainment

1 IHW Heavyweight Championship
1 IHWE Triple Crown Championship

Lonestar Championship Wrestling

1 LCW Heavyweight Championship

NWA Mississippi

1 NWA Mississippi Heavyweight Championship

NWA Southwest

3 NWA Texas Heavyweight Championship

NWA Velocity

1 IPCW Heavyweight Championship

Ohio Valley Wrestling

1 OVW Southern Tag Team Championship (with Shelton Benjamin)

Southwest Wrestling Entertainment

1 SWE Television Championship
1 SWE Tag Team Championships (with Jaykus Pliskin)
1 SWE Six Man Tag Team Championship (with Charlie Haas & Max Castellanos)

Texas Championship Wrestling

1 TCW Heavyweight Championship

Texas Outlaw Wrestling

1 TOP Southern Heavyweight Championship

Velocity Championship Action

2 VCA Heavyweight Championship

VooDoo Wrestling

World Class Revolution

1 WCR Tag Team Championships (with Dyl Dempsey)

World Wrestling Xpress

1 WWX Heavyweight Championship

Other Accomplishments

Texas Wrestling Hall of Fame induction (class of 2011)
Relations
Tag Teams & Stables

Blunt Force Trauma

-

Marshe Rockett (

November 30, 2022

-

Present

)

Perfect Enemy

-

Jaykus Plisken

(

March 1, 2019

-

October 14, 2020

)

Thuggin' and Buggin' Enterprises

-

Christopher Nowinski, Jazz, Mark Henry, Rosey, Theodore Long (

February 16, 2003

-

November 4, 2004

)

Dogg Pound

-

Shelton Benjamin (

January 9, 2002

-

September 26, 2002

)

Da Baldies

-

Spanish Angel, Tony DeVito, Vic Grimes

(

June 30, 2000

-

October 21, 2000

)

Managers

Damien Sandow / Aron Stevens, Jazz, Theodore Long

Family
Rodney Mack Game Appearances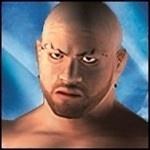 here-comes-the-pain