On this page, you find the full wrestling profile of Steve Williams, with his Career History, real name, age, height and weight, the Promotions he worked for, all the Face/Heel turns, the Championship Titles he won, his Finishers, Theme Songs, Tag Teams and Stables, his appearance changes through the years, and more.
Steven Franklin Williams was born in Lakewood, Colorado on May 14, 1960.
He died on December 29, 2009 at the age of 49.
Steve Williams was inducted in the WWE Hall of Fame in 2020 as part of the Legacy wing.
Profile Info
Gender

Male

Real Name

Steven Franklin Williams

Ring Names

Steve Williams

(

May 26, 1982

-

June 1, 2009

)

Born

May 14, 1960

Died

December 29, 2009 (aged 49)

Nationality

United States

Birth Place

Lakewood, Colorado

Billed From

Height

6 ft 1 in (185 cm)

Weight

Nicknames

Dr. Death
Career History
Roles

Wrestler

(

August 27, 2005

-

June 1, 2009

)

Coach

(

March 12, 2006

-

August 30, 2006

)

Wrestler

(

May 26, 1982

-

July 22, 2004

)

Companies / Promotions

Promotion
from
to

Promotion

INDY

August 27, 2005

June 1, 2009

Promotion

OVW

March 12, 2006

August 30, 2006

Promotion

INDY

May 9, 2003

July 22, 2004

Promotion

AJPW

January 2, 2000

January 13, 2003

Promotion

WCW

November 29, 1999

December 19, 1999

Promotion

WWF

July 14, 1998

March 30, 1999

Promotion

AJPW

February 21, 1990

June 12, 1998

Promotion

ECW

August 3, 1996

March 14, 1997

Promotion

WCW

May 11, 1992

December 28, 1992

Promotion

NJPW

Brand

Heavyweight

July 4, 1986

December 13, 1990

Promotion

WCW

November 10, 1988

February 6, 1990

Promotion

NWA

January 14, 1983

October 29, 1988

Face / Heel Turns

| Alignment | from | to |
| --- | --- | --- |
| Face | May 30, 1989 | June 1, 2009 |
| Heel | November 9, 1988 | May 29, 1989 |
| Face | May 26, 1982 | November 8, 1988 |

Images

May 1982
Finishers

Oklahoma Stampede

(

May 26, 1982

-

June 1, 2009

)

Doctor Bomb

-

Gutwrench Powerbomb

(

May 26, 1982

-

June 1, 2009

)

Backdrop Driver

-

High-angle Belly to Back Suplex

(

May 26, 1982

-

June 1, 2009

)

Theme Songs

Theme Song

"I Love It Loud" by KISS

-

Single

(

January 2, 2000

-

January 13, 2003

)

Theme Song

"Boomer Sooner" by Arthur M. Alden

-

Single

(

November 29, 1999

-

December 29, 1999

)

Theme Song

"I Love It Loud" by KISS

-

Single

(

February 21, 1990

-

June 12, 1998

)

Theme Song

"Decibel"

-

Single

(

May 11, 1992

-

December 28, 1992

)

Theme Song

"Born in the USA" by Bruce Springsteen

-

Single

(

July 4, 1986

-

December 13, 1990

)

Theme Song

"Bad to the Bone" by George Thorogood

-

Single

(

May 26, 1982

-

December 6, 1987

)
Titles & Accomplishments
Hall of Fame

WWE Hall of Fame

-

Year

2020

,

Legacy

Titles Won

World Championship Wrestling

2 WCW World Tag Team Championship (1 with Mike Rotunda, 1 with Terry Gordy)
1 NWA World Tag Team Championship (with Terry Gordy)
1 NWA United States Tag Team Championship (with Kevin Sullivan)

All Japan Pro Wrestling

1 Triple Crown Heavyweight Championship
8 AJPW Unified World Tag Team Championship (5 with Terry Gordy, 1 with Gary Albright, 1 with Vader, 1 with Johnny Ace)

Asylum Championship Wrestling

1 ACW Heavyweight Championship

International Wrestling Association of Japan

1 IWA World Tag Team Championship (with Ryo Miyake)

NWA Mid-Atlantic Championship Wrestling

1 NWA Mid-Atlantic Heavyweight Championship

Mid-South Wrestling Association / Universal Wrestling Federation

2 Mid-South Tag Team Championship (with Ted DiBiase)
1 UWF World Heavyweight Championship
1 UWF World Tag Team Championship (with Ted DiBiase)

Universal Wrestling Federation (Herb Abrams)

1 UWF World Heavyweight Championship
1 UWF SportsChannel Television Championship

Other Accomplishments

George Tragos/Lou Thesz Professional Wrestling Hall of Fame induction (class of 2007)
AJPW World's Strongest Tag Determination League Winner (1990, 1991 - with Terry Gordy; 2000 - with Mike Rotundo)
AJPW January 2 Korakuen Hall Heavyweight Battle Royal Winner (1995, 2000)
NWA World Tag Team Championship Tournament Winner (1992 – with Terry Gordy)
IWA World Tag Team Title Tournament Winner (2003 – with Ryo Miyake)
UWF SportsChannel Television Title Tournament Winner (1991)
Cauliflower Alley Club's Lou Thesz Award (2008)
PWI Most Improved Wrestler of the Year (1985)
PWI Tag Team of the Year (1992 - with Terry Gordy)
8° in the PWI 500 (1991)
WON Match of the Year (1996 - with Johnny Ace vs. Mitsuharu Misawa & Jun Akiyama on 06/07 in Tokyo, Japan)
WON Tag Team of the Year (1992 - with Terry Gordy)
WON Strongest Wrestler (1987–1990)
WON Most Improved (1985)
WON Rookie of the Year (1982)
Wrestling Observer Newsletter Hall of Fame induction (class of 2011)
Relations
Tag Teams & Stables

Mike Rotunda & Steve Williams

-

Irwin R. Schyster / Mike Rotunda (

November 19, 2000

-

March 17, 2004

)

Triangle of Power

-

Gary Albright, The Lacrosse

(

July 25, 1997

-

May 1, 1998

)

Johnny Ace & Steve Williams

-

John Laurinaitis / Johnny Ace (

January 16, 1994

-

April 19, 1997

)

The Miracle Violence Connection

-

Terry Gordy (

February 21, 1990

-

July 29, 1993

)

Johnny Ace & Steve Williams

-

John Laurinaitis / Johnny Ace (

July 11, 1990

-

November 26, 1991

)

The Varsity Club

-

Irwin R. Schyster / Mike Rotunda, Kevin Sullivan,

Dan Spivey, Leia Meow

(

November 9, 1988

-

May 7, 1989

)

Terry Gordy & Steve Williams

-

Terry Gordy (

June 14, 1987

-

August 12, 1987

)

Ted DiBiase & Steve Williams

-

Million Dollar Man Ted DiBiase (

November 17, 1984

-

May 3, 1987

)

Managers

Jim Ross
Steve Williams Game Appearances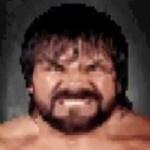 attitude