On this page, you find the full wrestling profile of Willow Nightingale, with her Career History, real name, age, height and weight, the Promotions she worked for, all the Face/Heel turns, the Championship Titles she won, her Finishers, Theme Songs, Tag Teams and Stables, her appearance changes through the years, and more.
Danielle Genevra Paultre was born in North Valley Stream, New York on January 25, 1994, and she is currently 29 years old.
She is currently a Wrestler, working for AEW and ROH, under the ring name of Willow Nightingale.
Profile Info
Gender

Female

Real Name

Danielle Genevra Paultre

Ring Names

Willow

(

June 2, 2021

-

December 25, 2021

)

Willow Nightingale

(

February 27, 2015

-

Present

)

Eye Candy

(

January 18, 2019

-

March 1, 2019

)

Willow Monet

(

July 15, 2015

-

October 21, 2015

)

Height

5 ft 6 in (168 cm)

Born

January 25, 1994 (age 29)

Birth Place

North Valley Stream, New York

Billed From

Franklin Square, New York

Nicknames

The Babe With The Power
Career History
Roles

Wrestler

(

February 27, 2015

-

Present

)

Companies / Promotions

Promotion
from
to

Promotion

AEW

November 21, 2021

Present

Promotion

ROH

June 2, 2021

Present

Promotion

MLW

July 10, 2021

November 6, 2021

Promotion

AEW

April 22, 2021

June 5, 2021

Promotion

CHIKARA

February 10, 2019

February 29, 2020

Promotion

SHIMMER

April 14, 2018

November 3, 2019

Face / Heel Turns

| Alignment | from | to |
| --- | --- | --- |
| Face | February 27, 2015 | Present |

Images

Feb 2015
Finishers

Fisherman's Suplex

(

February 27, 2015

-

Present

)

Theme Songs

Theme Song

"Hip Twitch (instrumental)" by Chase Baker

-

Single

(

June 2, 2021

-

Present

)

Theme Song

"Pretty Girls" by Tone P

-

Single

(

July 10, 2021

-

November 6, 2021

)
Titles & Accomplishments
Titles Won

CHIKARA

1 CHIKARA Campeonatos de Parejas Championship (with Solo Darling)

New York Wrestling Connection

3 NYWC Starlet Championship

Queens Of Combat

1 QOC Tag Team Championship (with Faye Jackson)

Other Accomplishments

WWR Tournament For Tomorrow Winner (2018 - with Solo Darling)
Relations
Tag Teams & Stables

Ruby Soho & Willow Nightingale

-

Ruby Soho / Riott (

December 26, 2022

-

February 5, 2023

)

The Bird and The Bee

-

Solo Darling (

May 27, 2018

-

April 1, 2021

)

Thick and Juicy

-

Faye Jackson (

March 24, 2018

-

January 19, 2019

)
Willow Nightingale Game Appearances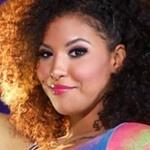 the-wrestling-code