On this page, you find the full wrestling profile of Madman Fulton / Sawyer Fulton, with his Career History, real name, age, height and weight, the Promotions he worked for, all the Face/Heel turns, the Championship Titles he won, his Finishers, Theme Songs, Tag Teams and Stables, his appearance changes through the years, and more.
Jacob Southwick was born in Toledo, Ohio on April 2, 1990, and he is currently 32 years old.
He is currently a Wrestler, working for Independent promotions, under the ring name of Madman Fulton.
Profile Info
Gender

Male

Real Name

Jacob Southwick

Ring Names

Madman Fulton

(

December 9, 2017

-

Present

)

Sawyer Fulton

(

October 18, 2012

-

December 8, 2017

)

Big Jake South

(

October 16, 2010

-

October 17, 2012

)

Height

6 ft 8 in (203 cm)

Weight

Born

April 2, 1990 (age 32)

Birth Place

Toledo, Ohio

Billed From

Nicknames

The Monster; Big
Career History
Roles

Wrestler

(

October 16, 2010

-

Present

)

Companies / Promotions

Promotion
from
to

Promotion

INDY

December 9, 2017

Present

Promotion

TNA

March 22, 2019

March 31, 2022

Promotion

WWE

Brand

NXT

May 2, 2013

November 3, 2017

Face / Heel Turns

| Alignment | from | to |
| --- | --- | --- |
| Heel | October 16, 2010 | Present |

Images

Mar 2019

Oct 2016

Oct 2010
Finishers

Better Than Baron

-

Swinging Reverse STO

(

December 9, 2017

-

Present

)

Spinning Gutwrench Suplex

(

October 16, 2010

-

December 8, 2017

)

STO Backbreaker

(

October 16, 2010

-

December 8, 2017

)

Theme Songs

Theme Song

"Rogue Rage" by Morgan Sansous & Leo Natale

-

Single

(

May 20, 2020

-

Present

)

Theme Song

"Pumped to Win" by Oliver Spink & Christopher White - with Ace Austin

-

Team

(

June 16, 2020

-

January 23, 2022

)

Theme Song

"Death" by Black Tiger Sex Machine & Lektrique

-

Single

(

December 9, 2017

-

May 19, 2020

)

Theme Song

"oVe" by Stefon Galifianakis - with oVe

-

Single

(

March 22, 2019

-

May 19, 2020

)

Theme Song

"Open the Gates" by Chris Hanning & Tom Hedden

-

Single

(

October 18, 2012

-

November 3, 2017

)

Theme Song

"Controlled Chaos" by CFO$ - with SAnitY

-

Team

(

October 12, 2016

-

November 30, 2016

)
Titles & Accomplishments
Titles Won

AAW Wrestling

1 AAW Tag Team Championship (with Ace Austin)

American States Wrestling Alliance

2 ASWA Heavyweight Championship

Atomic Wrestling Entertainment / Atomic Revolutionary Wrestling

1 AWE/ARW Tag Team Championship (with Vertigo Rivera)

Mid-Ohio Wrestling

1 Mid-Ohio Tag Team Championship (with Cyrus Poe)
Relations
Madman Fulton / Sawyer Fulton Game Appearances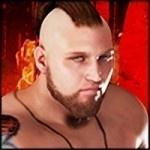 wwe2k18