On this page, you find the full wrestling profile of Robert Stone / Robbie E, with his Career History, real name, age, height and weight, the Promotions he worked for, all the Face/Heel turns, the Championship Titles he won, his Finishers, Theme Songs, Tag Teams and Stables, his appearance changes through the years, and more.
Robert Strauss was born in Alpine, New Jersey on October 1, 1983, and he is currently 39 years old.
He is currently a Wrestler and Manager, working for WWE on the NXT brand, under the ring name of Mr. Stone.
Profile Info
Gender

Male

Real Name

Robert Strauss

Ring Names

Mr. Stone

(

April 29, 2022

-

Present

)

Robert Stone

(

July 17, 2019

-

April 28, 2022

)

Robert Strauss

(

December 1, 2018

-

July 16, 2019

)

Rob Eckos

(

October 1, 2000

-

September 11, 2010

)

Robbie E

(

August 10, 2010

-

December 1, 2018

)

Height

5 ft 11 in (180 cm)

Weight

Born

October 1, 1983 (age 39)

Birth Place

Alpine, New Jersey

Billed From

Seaside Heights, New Jersey
Career History
Roles

Wrestler

(

October 1, 2000

-

Present

)

Manager

(

January 25, 2022

-

Present

)

Manager

(

March 21, 2019

-

November 4, 2021

)

Companies / Promotions

Promotion
from
to

Promotion

WWE

Brand

NXT

January 8, 2020

Present

Promotion

TNA

October 7, 2010

September 29, 2017

Face / Heel Turns

| Alignment | from | to |
| --- | --- | --- |
| Heel | March 21, 2019 | Present |
| Face | June 17, 2015 | March 20, 2019 |
| Heel | October 7, 2010 | June 16, 2015 |

Images

Jan 2020

Mar 2019

Jun 2015

Oct 2010
Finishers

FTD - Fresh to Death

-

Running Cutter

(

October 7, 2010

-

Present

)

Shore Thing

-

Falling Neckbreaker

(

October 7, 2010

-

Present

)

Boom Drop

-

Half Nelson Slam into a Reverse STO

(

June 17, 2015

-

Present

)

Inverted DDT

(

October 7, 2010

-

December 31, 2013

)

Theme Songs

Theme Song

"Here Comes the Boom" by Dale Oliver

-

Single

(

January 6, 2017

-

February 9, 2017

)

Theme Song

"Boom" by Sstaria - with Jessie Godderz

-

Team

(

August 18, 2016

-

December 9, 2016

)

Theme Song

"Here Comes the Boom" by Dale Oliver

-

Single

(

July 8, 2015

-

March 22, 2016

)

Theme Song

"Boom" by Dale Oliver - with Jessie Godderz

-

Team

(

May 2, 2013

-

April 17, 2015

)

Theme Song

"Get Your Fist Pumpin' in the Air" by Dale Oliver

-

Single

(

August 10, 2010

-

May 2, 2013

)
Titles & Accomplishments
Titles Won

Total Nonstop Action Wrestling

1 TNA X Division Championship
1 TNA Television Championship
2 TNA World Tag Team Championship (with Jessie Godderz)

Chaotic Wrestling

1 Chaotic Wrestling Tag Team Championship (with Billy Bax)

CyberSpace Wrestling Federation

1 CSWF Cruiserweight Championship

D2W Pro Wrestling

1 D2W Heavyweight Championship

DDT Pro-Wrestling

1 Ironman Heavymetalweight Championship

The Dynasty

1 Dynasty Heavyweight Championship

East Coast Wrestling Association

1 ECWA Mid Atlantic Championship
2 ECWA Tag Team Championship

Great Lakes Championship Wrestling

1 GLCW Heavyweight Championship

Hardway Wrestling

1 HW Lightweight Championship

Independent Superstars of Professional Wrestling

1 ISPW Tri State Championship

Jersey Championship Wrestling

1 JCW Cruiserweight Championship

National Championship Wrestling

1 NCW Tag Team Championship (with Nick Berk)

New York Wrestling Connection

1 NYWC Interstate Championship
1 NYWC Tag Team Championship (with Matt Striker)

Northeast Wrestling

1 NEW Tag Team Championship (with Cam Zagami)

Pro Wrestling Pride

1 PWP Tag Team Championship (with Danny Walsh)

Stars and Stripes Championship Wrestling

1 SSCW Heavyweight Championship
1 SSCW Lightweight Championship

United Wrestling Coalition

1 UWC United States Championship

Universal Independent Wrestling

1 UWC United States Championship

Other Accomplishments

ECWA Hall of Fame induction (class of 2006)
TNA X Division Championship #1 Contender Tournament Winner (2011)
Relations
Tag Teams & Stables

The Robert Stone Brand

-

Aliyah, Chelsea Green, Jessi Kamea, Mercedes Martinez, Taya Valkyrie (

January 8, 2020

-

November 4, 2021

)

The BroMans

-

Jessie Godderz (

March 22, 2016

-

October 13, 2016

)

The BroMans

-

Jessie Godderz (

May 2, 2013

-

April 17, 2015

)

Robbie E & Robbie T

-

Rob Terry (

September 8, 2011

-

February 28, 2013

)

The Valedictorians

-

Billy Bax

(

January 18, 2003

-

June 6, 2010

)

The Young Bluds

-

Matt Striker (

November 15, 2003

-

September 11, 2004

)

Managers

Cookie / Becky Bayless, Joaquin Wilde / DJZ, Raquel

Wrestlers managed

Aliyah, Chelsea Green, Jessi Kamea, Mercedes Martinez, Taya Valkyrie, Von Wagner
Robert Stone / Robbie E Game Appearances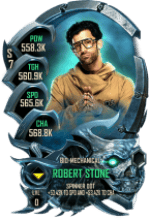 supercard