On this page, you find the full wrestling profile of Zack Sabre Jr., with his Career History, real name, age, height and weight, the Promotions he worked for, all the Face/Heel turns, the Championship Titles he won, his Finishers, Theme Songs, Tag Teams and Stables, his appearance changes through the years, and more.
Lucas Eatwell was born in Isle of Sheppey, Kent, England on July 24, 1987, and he is currently 35 years old.
He is currently a Wrestler, working for NJPW on the Heavyweight division, under the ring name of Zack Sabre Jr..
Profile Info
Gender

Male

Real Name

Lucas Eatwell

Ring Names

Zack Sabre Jr.

(

April 20, 2004

-

Present

)

Height

6 ft 0 in (183 cm)

Weight

Born

July 24, 1987 (age 35)

Birth Place

Isle of Sheppey, Kent, England

Billed From

Nicknames

The Technical Wizard
Career History
Roles

Wrestler

(

April 20, 2004

-

Present

)

Companies / Promotions

Promotion
from
to

Promotion

NJPW

Brand

Heavyweight

May 17, 2017

Present

Promotion

NJPW

Brand

Junior Heavyweight

March 6, 2017

May 16, 2017

Promotion

REVPRO

January 16, 2016

February 14, 2020

Promotion

ROH

December 14, 2018

April 6, 2019

Promotion

PROGRESS

March 25, 2012

October 28, 2018

Promotion

PWG

August 29, 2014

October 19, 2018

Promotion

WXW

April 21, 2018

August 31, 2018

Promotion

EVOLVE

September 13, 2014

April 5, 2018

Promotion

CHIKARA

August 21, 2016

June 18, 2017

Promotion

WXW

December 10, 2006

October 2, 2016

Promotion

NOAH

May 13, 2011

November 30, 2015

Promotion

REVPRO

August 26, 2012

June 15, 2014

Promotion

CZW

March 13, 2010

April 10, 2011

Face / Heel Turns

| Alignment | from | to |
| --- | --- | --- |
| Heel | March 6, 2017 | Present |
| Face | April 20, 2004 | March 5, 2017 |

Images

Jan 2023

Oct 2021

Aug 2014

Jan 2008

Apr 2004
Finishers

European Clutch

-

Double Pumphandle Armwringer into a Bridging Inverted Jackknife Pin

(

April 20, 2004

-

Present

)

Article 50

-

Cross Armbreaker

(

April 20, 2004

-

Present

)

Cremation Lily

-

Double Omoplata / Figure-four Stump Puller combination

(

April 20, 2004

-

Present

)

Zack Driver

-

Michinoku Driver II

(

April 20, 2004

-

Present

)

Orienteering With Napalm Death

-

Argentine Leglock / Calf Slicer combination

(

April 20, 2004

-

Present

)

Hurrah! Another Year, Surely This One Will Be Better Than The Last / The Inexorable March of Progress Will Lead Us All to Happiness

-

Double Wrist-clutch Octopus Hold

(

April 20, 2004

-

Present

)

Hypernormalisation

-

Double Wrist-clutch Reverse Octopus Hold

(

April 20, 2004

-

Present

)

Jim Breaks Special / Jim Breaks Armbar

-

Omoplata / Wristlock combination

(

April 20, 2004

-

Present

)

Young Boy Killer

-

Double Leg-trap Chickenwing Inverted Facelock

(

April 20, 2004

-

Present

)

Theme Songs

Theme Song

"Real Bone Master (Remix)" by Yonosuke Kitamura

-

Single

(

March 6, 2017

-

Present

)

Theme Song

"Mother" by IDLES

-

Single

(

March 25, 2012

-

October 28, 2018

)

Theme Song

"Hey Scenesters" by The Cribs

-

Single

(

May 13, 2011

-

November 30, 2015

)
Titles & Accomplishments
Titles Won

New Japan Pro-Wrestling

3 IWGP Tag Team Championship (with Taichi)
1 NJPW World Television Championship

Evolve

Pro Wrestling Guerrilla

Pro Wrestling Noah

2 GHC Junior Heavyweight Tag Team Championship (with Yoshinari Ogawa)

Revolution Pro Wrestling

4 British Heavyweight Championship
3 Undisputed British Tag Team Championship (2 with Marty Scurll, 1 with Minoru Suzuki)

Westside Xtreme Wrestling

1 wXw World Heavyweight Championship
1 wXw World Lightweight Championship
1 wXw World Tag Team Championship (with Big Daddy Walter)

DDT Pro-Wrestling

1 Ironman Heavymetalweight Championship

Defiant Wrestling / What Culture Pro Wrestling

1 Defiant/WCPW Internet Championship

German Stampede Wrestling

1 GSW Breakthrough Championship

International Pro Wrestling: United Kingdom

2 IPW:UK Tag Team Championship (with Marty Scurll)

NWA-UK Hammerlock

1 NWA United Kingdom Junior Heavyweight Championship

Premier Promotions

1 PWF Middleweight Championship

Triple X Wrestling

1 Triple X Wrestling Heavyweight Championship

Other Accomplishments

NJPW New Japan Cup Winner (2018, 2022)
PWG Battle of Los Angeles Winner (2015)
Progress Super Strong Style 16 Winner (2018)
wXw World Tag Team Tournament Winner (2015 – with Big Daddy Walter
IPW:UK Super 8 Tournament Winner (2014)
IPW:UK Tag Team Tournament Winner (2017 – with Jimmy Havoc)
NWA UK Hardcore Lottery Tournament Winner (2008)
AM Wrestling Round Robin Tournament Winner (2008)
PWF Ian Dowland Trophy Winner (2010)
PWF Ken Joyce Trophy Winner (2011)
PWF Worthing Trophy Winner (2012, 2013)
SWF One Night Tournament Winner (2012)
Wrestling Observer Newsletter's Best Technical Wrestler of the Decade (2010s)
Wrestling Observer Newsletter's Bryan Danielson Award Winner (Best Technical Wrestler - 2014-2019)
Alternative Wrestling Magazine's UK Match of the Year (2012 - vs. Marty Scurll, 25/03)
3° in PWI Tag Team 50 (2021- with Taichi)
24° in PWI 500 (2019)
WON Best Technical Wrestler of the Decade (2010s)
WON Bryan Danielson Award (Best Technical Wrestler) (2014–2020)
Relations
Tag Teams & Stables

TMDK

-

Bad Dude Tito / Escondido, Kosei Fujita, Nick Miller / Mikey Nicholls, Robbie Eagles, Shane Thorne / Haste (

January 4, 2023

-

Present

)

Dangerous Tekkers

-

Taichi (

November 18, 2018

-

January 4, 2023

)

Suzuki-gun

-

Davey Boy Smith Jr., DOUKI, El Desperado, Lance Archer, Minoru Suzuki, Taichi, TAKA Michinoku, Yoshinobu Kanemaru,

Takashi Iizuka, Miho Abe

(

March 6, 2017

-

December 23, 2022

)

The Leaders of the New School

-

Marty Scurll (

March 16, 2008

-

September 2, 2017

)

Zack Sabre Jr. & Yoshinari Ogawa

-

Yoshinari Ogawa

(

June 30, 2013

-

September 22, 2015

)

The Crimson City Saga

-

Aleister / Malakai Black (

September 13, 2008

-

May 29, 2010

)

The Leaders of the New School

-

Marty Scurll,

Paul Robinson, Nikko Brixton

(

September 22, 2007

-

March 16, 2008

)

Managers

TAKA Michinoku
Zack Sabre Jr. Game Appearances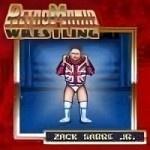 retromania-wrestling