On this page, you find the full wrestling profile of Pentagón Jr., with his Career History, real name, age, height and weight, the Promotions he worked for, all the Face/Heel turns, the Championship Titles he won, his Finishers, Theme Songs, Tag Teams and Stables, his appearance changes through the years, and more.
Pentagón Jr. was born in Xalapa, Veracruz, Mexico on February 5, 1985, and he is currently 38 years old.
He is currently a Wrestler, working for AEW and AAA, under the ring name of Penta El Zero Miedo.
Profile Info
Gender

Male

Real Name

unknown

Ring Names

Penta Oscuro

(

February 23, 2022

-

August 17, 2022

)

Penta El Zero Miedo

(

October 28, 2020

-

Present

)

Penta El Zero M

(

August 22, 2020

-

October 27, 2020

)

Pentagón Jr.

(

April 22, 2018

-

Present

)

Pentagón Dark

(

January 31, 2016

-

October 31, 2018

)

Penta El Zero M

(

February 5, 2017

-

December 19, 2019

)

Penta El 0M

(

January 21, 2017

-

November 23, 2019

)

Pentagón Jr.

(

December 2, 2012

-

January 30, 2016

)

Dark Dragon

(

January 27, 2011

-

December 1, 2012

)

Zaius

(

January 1, 2007

-

January 26, 2011

)

Height

5 ft 11 in (180 cm)

Weight

Born

February 5, 1985 (age 38)

Birth Place

Xalapa, Veracruz, Mexico

Billed From

Nicknames

Cero Miedo
Career History
Roles

Wrestler

(

January 1, 2007

-

Present

)

Companies / Promotions

Promotion
from
to

Promotion

AEW

February 7, 2019

Present

Promotion

AAA

June 5, 2018

Present

Promotion

PWG

August 26, 2015

September 22, 2019

Promotion

IMPACT

April 22, 2018

May 3, 2019

Promotion

CMLL

July 6, 2018

January 25, 2019

Promotion

LUCHA UNDERGROUND

November 12, 2014

October 31, 2018

Promotion

AAA

September 9, 2010

January 21, 2017

Face / Heel Turns

| Alignment | from | to |
| --- | --- | --- |
| Face | February 26, 2023 | Present |
| Heel | November 19, 2022 | February 25, 2023 |
| Face | November 18, 2020 | November 18, 2022 |
| Heel | March 4, 2020 | November 17, 2020 |
| Face | January 27, 2015 | March 3, 2020 |
| Heel | September 9, 2010 | January 26, 2015 |

Images

Feb 2022

Jan 2017

Aug 2014

Sep 2010
Finishers

Fear Factor

-

Package Piledriver

(

December 2, 2012

-

Present

)

Pentagón Driver

-

Pumphandle Half Nelson Driver

(

December 2, 2012

-

Present

)

Lanza

-

Diving Double Foot Stomp

(

November 17, 2014

-

Present

)

The Sacrifice

-

Grounded Hammerlock & Inverted Armbreaker

(

November 12, 2014

-

May 3, 2019

)

Theme Songs

Theme Song

"En La Oscuridad" by Mikey Rukus

-

Single

(

February 23, 2022

-

Present

)

Theme Song

"Zero Miedo" by Mikey Rukus - with Rey Fénix

-

Team

(

April 28, 2021

-

Present

)

Theme Song

"Triangulo 2.0" by Mikey Rukus - with Death Triangle

-

Single

(

May 29, 2022

-

Present

)

Theme Song

"Death Triangle" by Mikey Rukus - with Death Triangle

-

Team

(

March 4, 2020

-

May 28, 2022

)

Theme Song

"Lucha Brothers" by Gangsta L - with Rey Fénix

-

Team

(

February 7, 2019

-

April 27, 2021

)

Theme Song

"Fuel to the Fire (remix)" by Alan Reed & Queens Road

-

Single

(

April 22, 2018

-

May 3, 2019

)

Theme Song

"Here Comes the Boom" by Nelly -. with Fénix

-

Team

(

July 6, 2018

-

January 25, 2019

)

Theme Song

"Thrill Switch" by Cut One

-

Single

(

November 12, 2014

-

October 31, 2018

)

Theme Song

"Dubstep Boom" by King of Bass - with La Rebelión

-

Team

(

January 27, 2017

-

December 3, 2017

)

Theme Song

"Perros" by Cartel de Santa - with Los Perros del Mal

-

Team

(

November 17, 2014

-

January 21, 2017

)
Titles & Accomplishments
Titles Won

All Elite Wrestling

1 AEW World Tag Team Championship (with Rey Fénix)
1 AEW World Trios Championship (with PAC & Rey Fénix)

Impact Wrestling

1 Impact World Championship
1 Impact World Tag Team Championship (with Fénix)

Lucha Libre AAA Worldwide

1 AAA Latin American Championship
3 AAA World Tag Team Championship (1 with Joe Líder, 2 with Fénix)
1 AAA World Mixed Tag Team Championship (with Sexy Star)

Lucha Underground

1 Lucha Underground Championship
1 Gift of the Gods Championship

Pro Wrestling Guerrilla

1 PWG World Tag Team Championship (with Rey Fénix)

AAW: Professional Wrestling Redefined

1 AAW Heavyweight Championship
1 AAW Heritage Championship
1 AAW Tag Tean Championship (with Rey Fénix)

House of Glory

1 HOG Tag Team Championship (with Fénix)

Major League Wrestling

1 MLW World Tag Team Championship (with Rey Fénix)

Mexican Independent Circuit

1 Mexican Strong Style Championship
1 WCW Intercontinental Championship

Pacific Coast Wrestling

2 PCW Heavyweight Championship

Perros del Mal Producciones

2 Perros del Mal Light Heavyweight Championship

The Crash

1 The Crash Cruiserweight Championship
1 The Crash Tag Team Championship (with The King)

Wrestling Alliance Revolution

1 WAR World Tag Team Championship (with Rey Fénix)

Wrestling Superstar

1 WS World Submission Lucha Championship

Xtrem Mexican Wrestling

1 XMW Tag Team Championship (with Fénix)

Other Accomplishments

AEW Dynamite Award - Best Tag Team Brawl (2021 – The Young Bucks vs. Lucha Brothers, Steel Cage match at All Out)
Impact Fans' Choice Award - Finisher of the Year (2018 – Pentagón Driver)
Impact Fans' Choice Award - Match of the Year (2018 - vs. Sami Callihan at Slammiversary XVI)
AAA Rey de Reyes Winner (2016)
AAA Ruleta de la Muerte Winner (2022)
AAA Lucha Libre World Cup Winner (2023 - with Black Taurus & Laredo Kid)
AAA Lucha Fighter Winner (2020 - Men)
AAA Wrestler of the Year (2015)
AAA Rudo of the Year (2014, 2015)
Lucha Underground Aztec Warfare IV Winner (2018)
Fight Club: PRO Dream Team Invitational Winner (2019 – with Rey Fénix)
AAW Triple Crown Champion
CBS Sports Tag Team of the Year (2019 – with Fénix)
2° in PWI Tag Team 50 (2021- with Rey Fénix)
28° in PWI 500 (2019)
WON Tag Team of The Year (2019 – with Rey Fénix)
WON Pro Wrestling Match of the Year (2021 - with Rey Fénix vs. The Young Bucks at AEW All Out)
Relations
Tag Teams & Stables

The Lucha Brothers

-

Fénix (

December 3, 2015

-

Present

)

Death Triangle

-

Fénix, PAC / Neville (

March 4, 2020

-

Present

)

Eddie Kingston & Penta El Zero Miedo

-

Eddie Kingston (

June 14, 2021

-

July 19, 2021

)
Eddie Kingston, Fénix, The Blade / Braxton Sutter, The Butcher (

August 19, 2020

-

November 18, 2020

)

La Rebelión

-

Angel Garza / Garza Jr., Daga, Fénix, Rey Mysterio,

El Zorro

(

January 27, 2017

-

December 3, 2017

)

Los Perros del Mal

-

Daga, Konnan, Taya Valkyrie,

Perro Aguayo Jr., Joe Líder, Kahn del Mal

(

November 17, 2014

-

January 21, 2017

)

La Nueva Sociedad

-

Santos Escobar / El Hijo del Fantasma / King Cuerno,

El Texano Jr., Perro Aguayo Jr., La Parka Negra, El Zorro

(

January 30, 2015

-

January 13, 2016

)

La Sociedad

-

Daga, La Parka / L.A. ParK, Psicosis / Nicho el Millonario, Teddy Hart,

Octagón, Tito Santana, Chessman, Último Gladiador, Super Fly, Héctor Garza, Halloween, Pete Powers, Decnis

(

June 9, 2011

-

August 19, 2012

)

La Milicia

-

Octagón, Tito Santana, Tigre Cota, Decnis, Super Fly, Alan Stone

(

January 27, 2011

-

June 22, 2012

)

Legion X

-

Hantar, Kronoz

(

July 23, 2010

-

March 22, 2011

)

Managers

Alex Abrahantes, Konnan, Vampiro

Family
Pentagón Jr. Game Appearances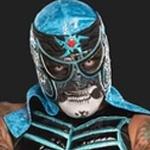 aew-fight-forever