On this page, you find the full wrestling profile of Viscera / Mabel / Big Daddy V, with his Career History, real name, age, height and weight, the Promotions he worked for, all the Face/Heel turns, the Championship Titles he won, his Finishers, Theme Songs, Tag Teams and Stables, his appearance changes through the years, and more.
Nelson Frazier Jr. was born in Goldsboro, North Carolina on February 14, 1972.
He died on February 18, 2014 at the age of 42.
Profile Info
Gender

Male

Real Name

Nelson Frazier Jr.

Ring Names

Big Daddy V

(

February 5, 2011

-

October 5, 2013

)

Big Daddy Voodoo

(

March 21, 2010

-

February 4, 2011

)

King V

(

October 4, 2008

-

March 20, 2010

)

Big Daddy V

(

June 17, 2007

-

October 3, 2008

)

Viscera

(

January 25, 1999

-

June 16, 2007

)

Mabel

(

January 22, 1996

-

January 24, 1999

)

King Mabel

(

June 25, 1995

-

January 21, 1996

)

Mabel

(

June 14, 1993

-

June 24, 1995

)

Nelson Knight

(

March 15, 1993

-

June 13, 1993

)

Height

6 ft 9 in (206 cm)

Weight

Born

February 14, 1972

Died

February 18, 2014 (aged 42)

Birth Place

Goldsboro, North Carolina

Billed From

Nicknames

The World's Largest Love Machine; Big Vis; The Mastodon
Career History
Roles

Wrestler

(

March 15, 1993

-

October 5, 2013

)

Companies / Promotions

Promotion
from
to

Promotion

INDY

October 3, 2008

October 5, 2013

Promotion

AJPW

October 13, 2011

December 4, 2011

Promotion

AJPW

March 21, 2010

October 24, 2010

Promotion

WWE

Brand

ECW

June 17, 2007

August 8, 2008

Promotion

WWE

Brand

Raw

September 28, 2004

June 16, 2007

Promotion

WWE

Brand

SmackDown

September 14, 2004

September 27, 2004

Promotion

WWE

January 24, 1999

August 1, 2000

Promotion

WWE

June 14, 1993

January 21, 1996

Face / Heel Turns

| Alignment | from | to |
| --- | --- | --- |
| Heel | May 11, 2006 | October 5, 2013 |
| Face | May 1, 2005 | May 10, 2006 |
| Heel | February 22, 1995 | April 30, 2005 |
| Face | March 15, 1993 | February 21, 1995 |

Images

Jun 2007

Jan 1999

Jun 1995

Jun 1993
Finishers

Viscera Drop

-

Running Splash

(

March 15, 1993

-

October 5, 2013

)

Chokeslam

(

October 14, 2008

-

October 5, 2013

)

Big Daddy V Drop

-

Running Elbow Drop

(

June 17, 2007

-

October 5, 2013

)

Spinning Side Slam

(

June 17, 2007

-

October 5, 2013

)

Embalmer / Viscera Driver / Sex Drive

-

Chokebomb

(

January 25, 1999

-

June 16, 2007

)

Ghetto Drop

-

Samoan Drop

(

January 25, 1999

-

June 16, 2007

)

Chokeslam

(

June 14, 1993

-

January 24, 1999

)

Theme Songs

Theme Song

"Love Machine" by Jim Johnston

-

Single

(

August 9, 2008

-

October 5, 2013

)

Theme Song

"Calling All Cars" by Jim Johnston

-

Single

(

June 17, 2007

-

August 8, 2008

)

Theme Song

"Love Machine" by Jim Johnston

-

Single

(

April 1, 2005

-

June 16, 2007

)

Theme Song

"Another Way Out" by Jim Johnston

-

Single

(

September 14, 2004

-

March 31, 2005

)

Theme Song

"Big Vis" by Jim Johnston

-

Single

(

January 25, 1999

-

August 1, 2000

)

Theme Song

"Ministry" by Jim Johnston - with Ministry of Darkness

-

Team

(

January 25, 1999

-

September 23, 1999

)

Theme Song

"The Lyin' King" by Jim Johnston

-

Single

(

June 25, 1995

-

January 21, 1996

)

Theme Song

"Men On A Mission" by Jim Johnston - with Mo

-

Team

(

June 14, 1993

-

March 15, 1993

)
Titles & Accomplishments
Titles Won

World Wrestling Federation

1 WWF World Tag Team Championship (with Mo)
1 WWF Hardcore Championship

All Japan Pro Wrestling

1 All Asia Tag Team Championship (with TARU)

Great Championship Wrestling

1 GCW Heavyweight Championship

Memphis Wrestling

1 Memphis Wrestling Southern Heavyweight Championship

Music City Wrestling

1 MCW North American Heavyweight Championship

Ozarks Mountain Wrestling

1 OMW North American Heavyweight Championship

Pro Wrestling Federation

2 PWF Tag Team Championship (with Bobby Knight)

United States Wrestling Association

1 USWA Heavyweight Championship

World Wrestling Council

1 WWC Universal Heavyweight Championship

Xcitement Wrestling Federation

1 XWF Heavyweight Championship

Other Accomplishments

WWF King of the Ring Winner (1995)
New England Pro Wrestling Hall of Fame induction (class of 2013)
Relations
Tag Teams & Stables

Voodoo Murders

-

Charlie Haas, Joe Doering, René Duprée,

TARU, Super Hate, Minoru, MAZADA, KENSO, KONO

(

March 21, 2010

-

March 21, 2010

)

Mark Henry & Big Daddy V

-

Mark Henry (

October 23, 2007

-

January 29, 2008

)

Ministry of Darkness

-

Christian, Edge, Gangrel, JBL / Bradshaw, Mideon / Phineas I. Godwinn, Paul Bearer, Ron Simmons / Faarooq, The Undertaker (

January 25, 1999

-

September 23, 1999

)

Corporate Ministry

-

Big Boss Man, Chyna, JBL / Bradshaw, Mideon / Phineas I. Godwinn, Paul Bearer, Pete Gas, Rodney, Ron Simmons / Faarooq, Shane McMahon, The Undertaker, Triple H, Vince McMahon (

April 29, 1999

-

August 2, 1999

)

Men on a Mission

-

Mo

(

March 15, 1993

-

June 17, 1996

)

Managers

Matt Striker, Trish Stratus
Viscera / Mabel / Big Daddy V Game Appearances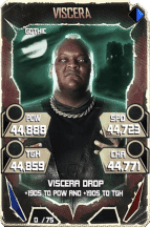 supercard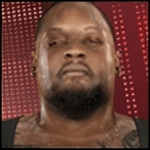 svr2009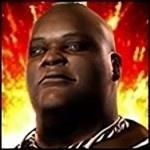 svr2007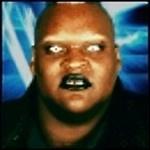 know-your-role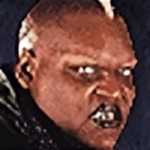 no-mercy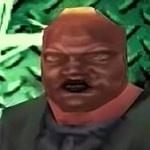 wrestlemania-2000