On this page, you find the full wrestling profile of Homicide, with his Career History, real name, age, height and weight, the Promotions he worked for, all the Face/Heel turns, the Championship Titles he won, his Finishers, Theme Songs, Tag Teams and Stables, his appearance changes through the years, and more.
Nelson Rodriguez Erazo was born in Brooklyn, New York on March 20, 1977, and he is currently 46 years old.
He is currently a Wrestler, working for NWA, MLW and GCW, under the ring name of Homicide.
Homicide was inducted in the Indie Hall of Fame in 2022.
Profile Info
Gender

Male

Real Name

Nelson Rodriguez Erazo

Ring Names

Homicide

(

January 1, 1995

-

Present

)

The Latin Terror

(

March 5, 1993

-

December 31, 1994

)

Born

March 20, 1977 (age 46)

Nationality

United States

Birth Place

Brooklyn, New York

Billed From

Height

5 ft 10 in (178 cm)

Weight

Nicknames

The Notorious 187
Career History
Roles

Wrestler

(

March 5, 1993

-

Present

)

Companies / Promotions

Promotion
from
to

Promotion

NWA

September 30, 2019

Present

Promotion

MLW

October 2, 2021

Present

Promotion

GCW

June 24, 2017

Present

Promotion

ROH

March 26, 2021

March 31, 2022

Promotion

IMPACT

March 16, 2017

December 31, 2018

Promotion

CZW

September 10, 2016

February 11, 2017

Promotion

TNA

March 17, 2013

July 24, 2015

Promotion

HOH

June 22, 2013

June 7, 2014

Promotion

ROH

September 11, 2010

December 14, 2013

Promotion

DG USA

October 29, 2010

January 30, 2011

Promotion

TNA

December 31, 2005

August 19, 2010

Promotion

CZW

August 11, 2007

September 15, 2007

Promotion

ROH

February 23, 2002

May 12, 2007

Promotion

PWG

September 1, 2006

November 18, 2006

Promotion

CZW

May 10, 2003

October 9, 2004

Face / Heel Turns

| Alignment | from | to |
| --- | --- | --- |
| Heel | June 2, 2018 | Present |
| Face | March 16, 2017 | June 1, 2018 |
| Heel | May 18, 2012 | March 15, 2017 |
| Face | June 24, 2010 | May 17, 2012 |
| Heel | September 10, 2009 | June 23, 2010 |
| Face | July 26, 2007 | September 9, 2009 |
| Heel | April 23, 2004 | July 25, 2007 |
| Face | February 23, 2002 | April 22, 2004 |

Images

Sep 2010

Feb 2008

Dec 2005

Feb 2002
Finishers

Cop Killer / Gringo Killer

-

Double Underhook Back-to-back Piledriver

(

February 23, 2002

-

Present

)

Gringo Cutter / 187

-

Cutter

(

February 23, 2002

-

Present

)

Theme Songs

Theme Song

"Cold Blooded" by Viceversah - with The OGz

-

Team

(

June 2, 2018

-

December 31, 2018

)

Theme Song

"Dawgz" by Konnan - with The LAX

-

Team

(

March 16, 2017

-

June 1, 2018

)

Theme Song

"Bring da Ruckus" by Wu-Tang Clan

-

Single

(

September 10, 2016

-

February 11, 2017

)

Theme Song

"Dawgz" by K-Dogg, Mad One & Maniak

-

Single

(

September 11, 2010

-

December 14, 2013

)

Theme Song

"5150" by F.I.L.T.H.E.E.

-

Single

(

April 20, 2009

-

August 19, 2010

)

Theme Song

"World Elite" by Dale Oliver - with World Elite

-

Team

(

September 10, 2009

-

January 4, 2010

)

Theme Song

"Hardcore" by F.I.L.T.H.E.E. - with The LAX

-

Team

(

April 3, 2008

-

April 19, 2009

)

Theme Song

"To Live and Die In LAX" by Dale Oliver & Serg Salinas - with The LAX

-

Team

(

March 11, 2007

-

March 27, 2008

)

Theme Song

"Poppin Theme" by G-Unit - with B-Boy

-

Team

(

January 24, 2004

-

October 27, 2007

)

Theme Song

"The Truth (Ironside intro)" by Beanie Sigel

-

Single

(

August 11, 2007

-

September 15, 2007

)

Theme Song

"Dawgz" by Konnan - with The LAX

-

Team

(

July 16, 2006

-

February 15, 2007

)

Theme Song

"The Truth - You're Not Ready" by 50 Cent

-

Single

(

January 17, 2004

-

October 9, 2004

)

Theme Song

"The Truth" by Beanie Sigel

-

Single

(

May 10, 2003

-

January 16, 2004

)
Titles & Accomplishments
Hall of Fame

Indie Hall of Fame

-

Year

2022

,

Individual

Titles Won

Total Nonstop Action Wrestling

1 TNA X Division Championship
2 NWA/TNA World Tag Team Championship (with Hernandez)
1 TNA World Tag Team Championship (with Hernandez)

Ring of Honor

1 ROH World Championship
1 ROH World Tag Team Championship (with Chris Dickinson)

National Wrestling Alliance

1 NWA World Junior Heavyweight Championship

Pro Wrestling Guerrilla

1 PWG Tag Team Championship (with B-Boy)

Assault Championship Wrestling

1 ACW Great American Championship

Big Japan Pro Wrestling

1 BJPW World Junior Heavyweight Championship

Catalyst Wrestling

1 Catalyst Wrestling Heavyweight Cahmpionship

Doghouse Championship Wrestling

1 DCW Heavyweight Championship
1 DCW Tag Team Championship (with Grim Reefer)

Eastern Pro Wrestling

1 EPW Cruiserweight Championship

Full Impact Pro

1 FIP Heavyweight Championship

Impact Championship Wrestling

1 ICW Heavyweight Championship
1 ICW Tag Team Championship (with Boogalou)

Independent Wrestling Association Mid-South

1 IWA Mid-South Tag Team Championship (with Eddie Kingston)

International Wrestling Association

1 IWA World Junior Heavyweight Championship
1 IWA World Tag Team Championship (with Hernandez)

International Wrestling Union

3 IWU Georgia Championship

Jersey All Pro Wrestling

7 JAPW Heavyweight Championship
7 JAPW Tag Team Championship (2 with Kane D, 1 with Don Montoya, 1 with B-Boy, 1 with Teddy Hart, 1 with Hernandez, 1 with Eddie Kingston)

Jersey Championship Wrestling

1 JCW Heavyweight Championship

Long Island Wrestling Federation

1 LIWF Heavyweight Championship
1 LIWF Lightweight Championship
1 LIWF New Jersey Championship

New Horizon Pro Wrestling

1 NHPW Art of Fighting Championship

NWA Wildside

2 NWA Wildside Tag Team Championship (with Rainman)

Pro Wrestling Unplugged

1 PWU Heavyweight Championship

River City Wrestling (San Antonio)

1 RCW Legends Championship
1 RCW Tag Team Championship (with Hernandez)

USA Pro Wrestling / USA Xtreme Wrestling

1 USA Pro Heavyweight Championship
1 USA Pro United States Championship
2 UXW Xtreme Championship

VIP Wrestling

1 VIP Heavyweight Championship

Warriors of Wrestling

1 WOW No Limits Championship

Other Titles

1 MAS Cruiserweight Championship
3 WMF All Borough Championship

Other Accomplishments

JAPW Hall of Fame induction (2016)
TNA Deuces Wild Tournament Winner (2008 - with Hernandez)
TNA Match of the Year (2006 - with Hernandez vs. AJ Styles & Christopher Daniels, at TNA Surrender)
ROH Trios Tournament Winner (2005 - with Ricky Reyes & Rocky Romero)
ROH #1 Contenders Trophy Winner (2003)
PWG Tango & Cash Invitational Winner (2004 - with B-Boy)
NHPW Global Conflict Shield Tournament Winner (2011)
WON Tag Team of the Year (2006 - with Hernandez)
WON Best Gimmick (2006 - with Hernandez)
Relations
Tag Teams & Stables

VLNCE UNLTD

-

Brody King, Chris Dickinson, Tony Deppen (

March 26, 2021

-

January 11, 2022

)

Outlaw Inc.

-

Eddie Kingston (

September 30, 2019

-

January 10, 2020

)

The OGz

-

Eddie Kingston, Hernandez (

June 2, 2018

-

December 31, 2018

)

The Latin American Xchange

-

Diamanté, Eddie Kingston, Konnan, Ortiz, Santana (

March 16, 2017

-

June 2, 2018

)

Outlaw Inc.

-

Eddie Kingston (

June 17, 2016

-

December 1, 2017

)

The Beat Down Clan

-

Hernandez, Kenny King, Low Ki, MVP (

April 10, 2015

-

July 15, 2015

)

Outlaw Inc.

-

Eddie Kingston (

December 13, 2011

-

June 7, 2014

)

WORLD-1

-

PAC / Neville,

BxB Hulk, Masato Yoshino

(

October 30, 2010

-

January 30, 2011

)

World Elite

-

Doug Williams, Eric Young, Kevin Nash / Diesel, Kiyoshi, Nick Aldis / Magnus, Rob Terry, Shawn Daivari (

September 10, 2009

-

January 4, 2010

)

The Latin American Xchange

-

Ariel / Salinas / Shelly Martinez, Hernandez, Konnan,

Apolo, Machete, Héctor Guerrero

(

December 31, 2005

-

September 10, 2009

)

Homicide & B-Boy

-

B-Boy

(

January 24, 2004

-

October 27, 2007

)

The Rottweilers

-

Ricky Reyes, Rocky Romero (

April 23, 2004

-

August 4, 2006

)

The Natural Born Sinners

-

Boogalou

(

August 25, 2001

-

April 25, 2004

)

Nation of Immigration

-

Kane D

(

September 12, 1997

-

May 21, 1999

)

Managers

Ariel / Salinas / Shelly Martinez, Konnan
Homicide Game Appearances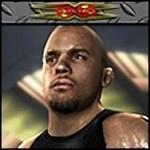 tna-impact