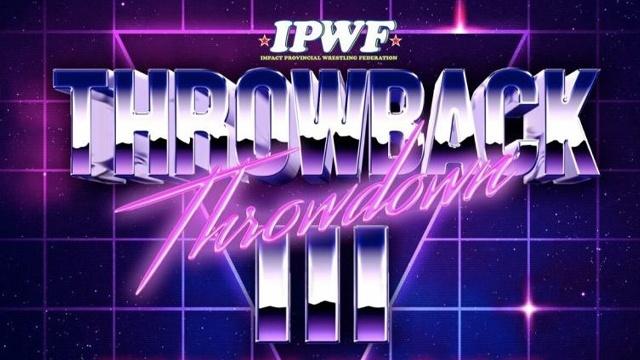 Impact Wrestling Throwback Throwdown III was a Special Event produced by Impact Wrestling, which took place on December 2, 2022, at the Benton Convention Center in Winston-Salem, North Carolina.
It's the 33° edition of the Impact Plus Special event series, after Impact Wrestling Over Drive (2022).
IPWF Presents: Rival Survival.
The main event of the show was Team IPWF (Frank the Butcher (Rhino), Tim Burr (Josh Alexander), Cowboy Colt McCoy (Eddie Edwards) & Giuseppe Scovelli Jr. (Josh Mathews)) vs. Team GLUW (Neptune (Shera), Devon Damon (Crowbar), Lord Humongous (Big Kon) & Manfred The Mad Mammal (Beer City Bruiser)).
Below you can find the full match card and results of Impact Wrestling Throwback Throwdown III, and more information about the event.
Event Info
Impact Wrestling Throwback Throwdown III Results
[Countdown to Throwback Throwdown III Pre-show]
Mr. E (Shogun) defeats Lazer
Rapid Delivery Pete (Pineapple Pete) defeats Monty Moonlight (Zicky Dice)

Clock Out Match

Bill Ding (Trey Miguel) defeats Jack Hammer (Andrew Everett)
Georgia Cobb (Jordynne Grace) defeats Wanda The Werewoman (Savannah Evans)
Brian Crunchin (Brian Myers) & Shane Douglas defeat The Sunday Morning Express (Editor in Chief (Chris Sabin) & Paper Boy)
Monsieur Baguette (Mike Bailey) defeats Otis Oates (Deaner)
"If Dreamer wins he gets 5 minutes alone with Colonel Corn (John E. Bravo)"
Tommy Dreamer defeats Pelvis Wesley (Heath)

5-Minutes Match

Colonel Corn (John E. Bravo) defeats Tommy Dreamer
The Auto-Bodies (Smoky Muffler (Mickie James) & Rusty Transmission (ODB)) defeat Volcanic Activity (Lucy Luau (Gisele Shaw) & Tina Tiki (Tasha Steelz))

Exciting Division Championship Triangle Match

Johnny Swinger defeats Biff Knuckles (John Skyler) and Keaton Fox (Jason Hotch) to win the vacant title
Tori Nailbiter (Rosemary) defeats Rusty Iron (Gia Miller)
DJ 2Large (Moose) defeats Buck Humphrey (Kaleb with a K)

Rival Survival Match

"Winners get the control of IPWF"
Team IPWF (Frank the Butcher (Rhino), Tim Burr (Josh Alexander), Cowboy Colt McCoy (Eddie Edwards) & Giuseppe Scovelli Jr. (Josh Mathews)) defeat Team GLUW (Neptune (Shera), Devon Damon (Crowbar), Lord Humongous (Big Kon) & Manfred The Mad Mammal (Beer City Bruiser))