On this page, you find the full wrestling profile of Chris Bey, with his Career History, real name, age, height and weight, the Promotions he worked for, all the Face/Heel turns, the Championship Titles he won, his Finishers, Theme Songs, Tag Teams and Stables, his appearance changes through the years, and more.
Chris Bey was born in Alexandria, Virginia on February 13, 1996, and he is currently 27 years old.
He is currently a Wrestler, working for Impact Wrestling and NJPW on the STRONG and Junior Heavyweight division, under the ring name of Chris Bey.
Profile Info
Gender

Male

Real Name

Chris Bey

Ring Names

Chris Bey

(

January 1, 2016

-

Present

)

Height

5 ft 9 in (175 cm)

Weight

Born

February 13, 1996 (age 27)

Birth Place

Alexandria, Virginia

Billed From

Nicknames

The Ultimate Finesser; Dashing
Career History
Roles

Wrestler

(

January 1, 2016

-

Present

)

Companies / Promotions

Promotion
from
to

Promotion

IMPACT

February 18, 2020

Present

Promotion

NJPW

Brand

STRONG

September 25, 2021

Present

Promotion

NJPW

Brand

Junior Heavyweight

November 21, 2022

Present

Face / Heel Turns

| Alignment | from | to |
| --- | --- | --- |
| Heel | May 19, 2020 | Present |
| Face | February 18, 2020 | May 18, 2020 |

Images

May 2022

Sep 2021

Dec 2020

Feb 2020
Finishers

The Art of Finesse

-

Springboard Cutter

(

February 18, 2020

-

Present

)

Beymouser

-

Springboard Leg Drop Bulldog

(

January 1, 2016

-

Present

)

Triple C - Crazy Chris Cutter

-

Cutter

(

January 1, 2016

-

Present

)

Final Finesse / Chris Kick

-

Spinning Back Hook Kick

(

January 1, 2016

-

Present

)

Theme Songs

Theme Song

"One Shot" by T.SLiZz

-

Single

(

February 18, 2020

-

Present

)

Theme Song

"Shot'Em" by [Q]Brick - with Bullet Club

-

Team

(

August 5, 2021

-

Present

)
Titles & Accomplishments
Titles Won

Impact Wrestling

1 Impact X Division Championship
1 Impact World Tag Team Championship (with Ace Austin)

Championship Wrestling From Hollywood

1 UWN Tag Team Championship (with Suede Thompson)

Future Stars of Wrestling

1 FSW Heavyweight Championship
1 FSW No Limits Championship
1 FSW Tag Team Championship (with Nino Black)

Maverick Pro Wrestling

Without A Cause

Wrestling's Best Of The West

Other Accomplishments

Impact Wrestling Award - One to Watch in 2021 (2020)
APW/GRPW Young Lions Cup Winner (2017)
Relations
Tag Teams & Stables

Bullet Club

-

Ace Austin, Bad Luck Fale, Chase Owens, David Finlay, Dick Togo, El Phantasmo, EVIL, Gedo, Hikuleo, Jado, Jay White, Karl Anderson, KENTA / Hideo Itami, Luke / Doc Gallows, SHO, Taiji Ishimori, Tama Tonga, Tanga Loa / Camacho, Yujiro Takahashi (

August 5, 2021

-

Present

)

Bullet Club USA

-

Ace Austin, El Phantasmo, Hikuleo, Jay White, Juice Robinson / CJ Parker, Karl Anderson, Luke / Doc Gallows (

August 5, 2021

-

Present

)

ABC (1,2 SWEET!)

-

Ace Austin (

June 3, 2022

-

Present

)

Bey-F-Fs

-

El Phantasmo (

September 23, 2021

-

Present

)

The Jay and Bey Connection

-

Jay White (

August 5, 2021

-

June 16, 2022

)

Double Platinum

-

Suede Thompson

(

June 2, 2018

-

December 7, 2019

)
Chris Bey Game Appearances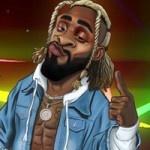 retromania-wrestling